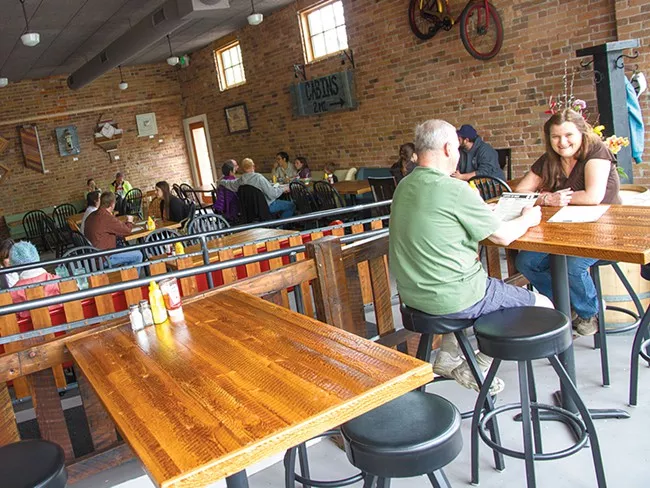 Usually, if I find myself alone at a restaurant waiting for my tardy friends to join me for a drink after work, I would start feeling a little anxious around the time I realized I'd gone through my entire Twitter feed and exhausted my only source of entertainment. Each minute the pressure would mount, and I'd feel the need to repeatedly explain to the waitress that there is, in fact, a reason I'm taking up this four-person table.
At The Lantern Taphouse, however, I never felt that pressure.
At 5 pm on a Friday, the Lantern feels less like a restaurant and more like a cafe that happens to have excellent food, beer and cocktails. That's probably because where I was sitting, away from the small bar, actually used to be the Perry Street Cafe before it closed a couple years ago and the Lantern snatched up the extra space. It's the kind of place where it's normal for a guy like me to sit at a table against the wall, sip a drink and not be questioned about when I'll order something else, or when those two other people are supposed to show up (they eventually did 20 minutes later, by the way, but I'm not bitter).
The brick walls, the fireplace and the lanterns — actual lanterns! — on top of the mantle all made for a cozy atmosphere. Couples of all ages talked over food and drinks. As the night went on, Gonzaga fans, wearing their Gonzaga sweaters and blue jeans, trickled in with their kids. The men's basketball team was about to play Syracuse in the Sweet Sixteen — a game the Zags somehow lost in the final minutes. But this isn't a sports bar, and it doesn't have TVs in every corner. There's one screen above the fireplace, kind of like in a living room.
You can't go wrong with their cocktails, but I wanted a beer. It's a tap house, after all. The chalkboard showed 10 beers on tap, seven from Silver City Brewery out of Seattle, and the waitress said this was the first time it's been on tap in Spokane. I chose a refreshing Silver City Fat Scotch Ale served in a 10-ounce glass. I thought about an appetizer, but decided on the fish and chips — they have housemade tartar sauce, and if you have good tartar sauce, you have my interest. It didn't disappoint.
The
Lantern bills itself
as a "family-friendly neighborhood pub," which is a phrase I typically avoid because I imagine a dozen screaming kids running around. There were a few little kids here during Happy Hour, but when I made eye contact with one, I knew even he understood the vibe: it's been a long week, so let's all relax and have a good time.
Happy hour runs
Mon-Fri from 3 pm-6pm
and
all day Sunday
.
All drinks
during happy hour are
$1 off
, and
so are select appetizers
including soup, chili, a side salad, cracklings or chips and salsa.
To learn more about Happy Hours around the Inland Northwest, visit Inlander.com on your phone and download our Drinkspotter app, or simply visit
this page
.