On Inlander.com:
Suckulent
• With claims that Spokane Doesn't Suck at an all time high, the
Inlander
provides seven posters with a more nuanced, sophisticated take. Sadly, I didn't have time to make the "Spokane Doesn't Suck As Much As Batman V. Superman" poster.

Union Busting Busted
• With the death of
just one man
, the right of public sector unions to force members to pay at least some membership dues has been preserved.

College Swap
• EWU just made transferring from a Community College
a whole lot easier
.

The Loss of Patty Duke
Patty Duke, one of the
Northwest's most iconic actresses,
has died.

Bodices! Will! Be! Ripped!

Local
writer of sexy paranormal Viking stories has received a
double honor
from the Romance Writers of America.
HERE

If Every Session is Special.... None of Them Are!
Breath easy. The Washington legislation session is
over for another year
, bringing our long, national nightmare of snarky Rep. Michael Baumgartner
tweets
to a close. For now. For now. (Spokesman-Review)

We've All Been There, Man
An attempt to reconcile a relationship has ended with a woman
allegedly stabbing
her boyfriend in the stomach. (Spokesman-Review)

This Never Would Have Happened At Washington Water Power
You know how hard it can be to work through the bureaucracy at Avista just to answer a simple question? The Spokane Police
feel the same way
. (KREM)
THERE

Battery Included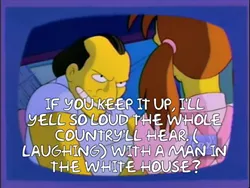 • Trump campaign manager Corey Lewandowski has been charged with
simple battery
after he forcefully grabbed then-Breitbart reporter Michelle Fields. Security cameras, audio recorders, and a
Washington Post
reporter witnessed it. Fields tweeted photographic evidence of bruises. But Trump can't seem to remember that iconic reality-show phrase — what was it again? "I'm asking for your resignation?" "Turn in your gun and badge?" "You've been made redundant?" "We're moving in a different direction?" — and ditch the guy.
Instead, Trump has cycled through a variety of contradictory rationale, including that she was making the whole thing up, that those bruises could have come from anywhere to — and to be clear, this came from a presidential candidate and not a Saturday Night Live sketch — that the pen Fields was holding could have been a tiny bomb, and Lewandowski was playing the role of an amateur Jack Bauer in saving his boss.

Let's Break A Deal
Remember when Republicans got Trump to sign a pledge saying he'd support the presidential nominee, even if it wasn't him? They thought they had a deal? Well, Trump is
altering
the deal. Pray he does not alter it further. Really, that's what happens when you trust
Dealbreaker Jones
. And the other Republicans are following suit.
From A to Zika

They hated
each other
. They couldn't stand
each other
. But a team of rival scientists will have to put aside their differences and learn to work together on one... last... mission.
The Zika Job.