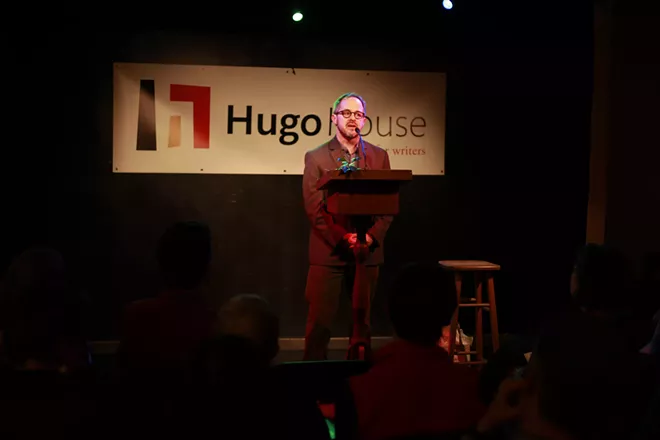 The only conceivable way I can think of getting over my blues after Prince's death is to get out in the world and celebrate life. And our event listings and Staff Picks thankfully have a lot of options for just that.
Here are some highlights of the week ahead:
Monday, April 25
COMEDY | The
Drink 'n' Debate
series continues at The Big Dipper, where some of the funniest folks in town face off to, well, you just read the name of the thing.
MUSIC EVENTS | The
Gonzaga Symphony
delivers its season finale at the Fox, and will be joined by renowned clarinetist Richard Stoltzman.
Tuesday, April 26
WORDS | State Poet Laureate
Tod Marshall
speaks at a free event at the Greater Gonzaga Guild luncheon about how poetry's reputation limits the literary form's popularity.
LIVE BANDS | It's time for another
KYRS Rooftop Concert
, this one featuring Boyfriends, Phlegm Fatale and Local Pavlov.
LIVE BANDS | The Bartlett's bluegrass and acoustic-tinged
Northwest of Nashville
series continues with a night featuring The Holy Broke, Rye River and No Going Back.
Wednesday, April 27
FILM | Get yourself in the running mood for Bloomsday with Suds and Cinema, where the Inlander presents
Prefontaine
at the Bing. Jared Leto is no joker playing the running pioneer. Here's what's in store:
COMMUNITY | Humanities Washington's
Think & Drink
series of community discussions returns to Lindamen's for a discussion of political anger, the role of media and also whether things will calm down any time soon.
Thursday, April 28
LIVE MUSIC | Seattle garage punk crew
Pony Time
heads to the Baby Bar for what is sure to be an epic throwdown, joined by Holy Cows and Peru Rush.
Here's our story
about Pony Time. And here's a sample:
Friday, April 29
WORDS | Auntie's welcomes author
William Finnegan
as part of the EWU Visiting Writers Series. He just won a Pulitzer for his surfing memoir
Barbarian Days
so, you know, nice booking!
Saturday, April 30
BENEFIT | Stage Left Theater hosts
Revue!
, a fundraiser for the indie theater featuring some stellar show tunes delivered by local talent.