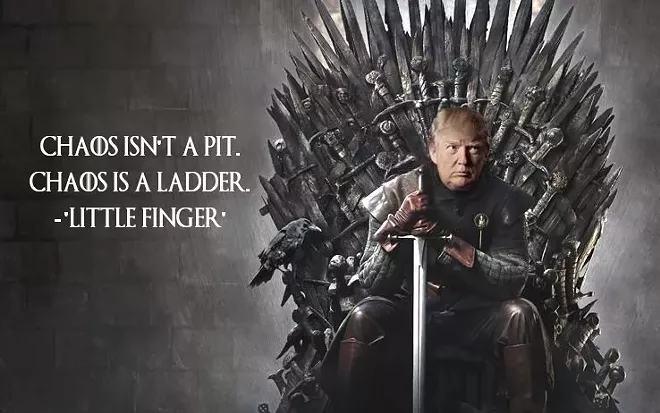 ON INLANDER.COM

Achievement Unlocked

• Inlander Dude,
the next-generation open-world action-packed immersive surrealistic adventure that will become your world, has finally been released.
DLC coming soon
!
Hitch Session
• The owners of the Hitching Post, who were worried the city's nondiscrimination ordinance would subject them to fines or jail time if they refused to perform gay weddings, are now thousandaires after the city of Coeur d'Alene
settles
a lawsuit.
Lilac Blooms
• A quirky business opens, but only for a month. Which isn't totally unusual for Spokane — but this time,
it's intentional
.
HERE

Striker Lights Fire
• Continuing the
trend of March meetings
with police officers being super heated, COPS director Patrick Striker
wrote an email
after a March 30 meeting calling Mayor David Condon "an unstable, angry person with no clear direction, who does not communicate effectively, does not lead appropriately and is far more interested in placing blame than in solving problems in a healthy manner."
Condon, in response, appeared to suggest that Councilwoman Karen Stratton had leaked the e-mail to the Spokeswoman. On Facebook, Stratton responded that "I would not do that to Patrick. Ever. Don't know who did."
She also posted this:
It's good that the Mayor apologized for his own behavior at the COPS meeting. I'm not sure why he chose the occasion to lash out at me since I was merely a recipient of an email about him. Frankly, I know a lot more about how HR functions in City Hall and I think employees have legitimate reservations about the HR Process. I have worked hard, and will continue to do so to ensure employee concerns are handled professionally and promptly.

(
Spokesman-Review
)

We Need To Talk About Kevin
• Kevin Parker opts not to run for re-election, deciding he wants to spend more time
with his family
in Spokane. As I understand it, his family is composed mostly of Dutch brothers. (
Spokesman-Review
)
Stood Up By Ted
• Apparently, Ted Cruz would rather drop out of the presidential race than visit little ol' Spokane. No, no, don't apologize, Ted. We'll be fine. It's just that
most
presidential candidates would visit once in a while, but apparently you can't be bothered. (
Spokesman-Review
)
THERE
Donald We Now Our Trump Apparel

• Yesterday, Donald Trump took a break from accusing Ted Cruz's dad of quite possibly being involved in the John F. Kennedy assassination, to effectively clinch the Republican nomination for the presidency.
That's right.
Donald.
J.
Trump.
Now, every Republican legislator — and every voter — will have to face the ethical quandary. Do they support the man? Do they
trust this man
? Do they want every single thing he says, every ethnic group he insults, every conspiracy theory he throws out, to be associated with their good name? Do they want the millstone of Trump support to be hanging around their necks for the rest of their lives? (CNN)

Hillary Haters For Hillary
• Some Republicans may not like Trump very much, but are they willing to hold their nose and vote for who they feel is the lesser of the two evils:
Hillary Clinton
. (NY Times)
Got Religion
• Uh... they guy who's reported to possibly be the first openly atheist member of Congress is actually
100 percent emphatically Jewish
. (Washington Post)
GO AHEAD! THROW YOUR VOTE AWAY!