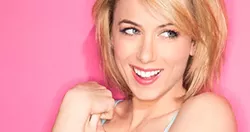 We're on the downhill into the second half of May, which is so hard to believe. I've been so distracted playing through the month thanks to all the cool things in our event listings and Staff Picks. That will probably continue.
Here are some highlights of the week ahead:
Monday, May 16
LIVE BANDS | The legendary
Leon Russell
comes back to Spokane for a gig at the Knitting Factory. Here's a little sample of the man's tunes:
FOOD & DRINK | It's the first day of
Craft Beer Week
, so pop a cold one, read our
story about some local homebrewers
, then get out there and sample some deliciousness.
Tuesday, May 17
LIVE BANDS | Speaking of legendary musicians,
Violent Femmes
aren't classic rockers like Leon Russell, but the weirdo-folk trio certainly have some legendary tunes in their arsenal. The show is sold-out, but where there's a will (and internet) there's a way. Here's
our interview with the band
, and here's little sample:
Wednesday, May 18
COMMUNITY | A week's worth of Bike to Work/Everywhere festivities takes a somber turn for a
silent ride
done in memory of cyclists who died in collisions with motorists.
FARMERS MARKET | It's opening night of the
Kendall Yards Night Market
, and we're big fans because it's right outside our front door. But it also has some great produce and lots of nice folks hanging out!
Thursday, May 19
FARMERS MARKET | The
South Perry Thursday Market
is off and running, too! Did I mention how close we are to full-on summer?
COMEDY |
Iliza Shlesinger
gets a lot of laughs out of dissecting the battle of the sexes, and was the youngest winner ever on Last Comic Standing (and also the first female winner). She starts a weekend of shows at Spokane Comedy Club tonight.
Friday, May 20
THEATER | The Spokane Civic Theatre closes down the season with the ol' fave
Guys & Dolls,
running through June 19.
Saturday, May 21
FOOD & DRINK | No-Li is hosting its
Red, White & No-Li Small Batch Festival
, a nice way to help wind down Craft Beer Week.