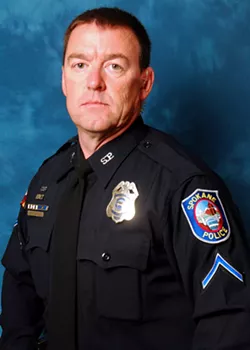 ON INLANDER.COM
• Yes, Florida Georgia Line is coming to Spokane in November, but one
announcement
you might've missed:
Buckethead
. The former Guns 'n' Roses guitarist (briefly) who wears a KFC bucket... well you know where. He'll be at the Bing in July.
• And in light of Idaho's primaries last night:
The Measure of Malek
(that's Idaho Rep. Luke Malek), who won the primary election and will face Democrat Patrick Mitchell in the November general election.
IN OTHER NEWS:
The Idaho Primaries:

• Kootenai County
Sheriff Ben Wolfinger
held off the way-right-wing attorney John Green. He'll face Tina Kunishige, another "constitutional sheriff," and
machine gun manufacturer
in the general. (
Spokesman-Review
)
• A Twin Falls attorney and a Republican legislator face off for a seat on the
Idaho State Supreme Court
. (
Idaho Statesman
)
• Two West Ada
trustees are recalled
by a 2:1 margin following allegations of broken public meeting laws and budget blunders. (
Idaho Statesman
)
• Sen. Mike Crapo and Congressman Raul Labrador won easily (Crapo ran unopposed). (
Spokesman-Review
)
• In the
presidential election
: Bernie won in Oregon and Hillary leads by less than a point in
Kentucky
. The Democratic candidates will likely split the delegates.
• The trial for the SPD sergeant accused of
tipping off a fellow officer about a search warrant in the midst of a rape investigation
ended in a hung jury. Superior Court Judge John Cooney declared a mistrial yesterday. It's now up to the prosecutor to retry
Sgt. John Gately
on the misdemeanor obstructing charge. (
Spokesman-Review
)
• Evolving science and
suspect police and prosecution practices
have dulled the once full-proof reputation of
DNA evidence
. Now,
some experts
are questioning its use.
• A
second person
in as many months
died on the railroad tracks
in downtown Spokane. (We wrote about
a man
who survived a run in with a train last year.)
• Millions more Americans are now eligible for
overtime pay
after a new
regulation
issued by the Labor Department. Most salaried workers who make up to $47,476 now must receive time-and-a-half overtime pay if they work more than 40 hours a week. The previous cutoff was $23,660.