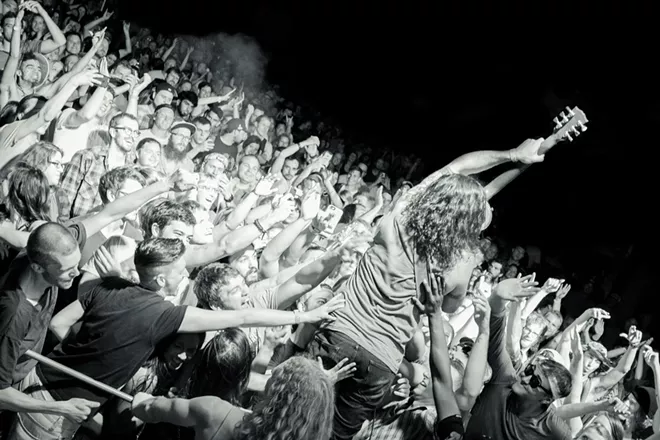 ELKFEST
We're here in the final homestretch of the back-to-back-to-back music festival weekends. We're finally recovered from Sasquatch! over Memorial Day Weekend, Volume just last weekend and now it's finally Elkfest. Tonight's festivities kicked off this afternoon with the music starting at 4 pm.
Here's everything you need to know
about the annual Browne's Addition block party. Hopefully, it doesn't rain! For a taste of Saturday night's festivities, see the video above.
CASCADIA PRE PARTY
This Saturday, a month before the
Cascadia NW Arts & Music Festival
gets underway on the west side of the state in Granite Falls, the Big Dipper hosts three of its artists for a pre-party — a light-filled event sure to include a host of dancers and artists and body paint. Put on by the local production company Old Love Music Group, which works to celebrate something they call Intelligent Dance Music, the event is headlined by
Michael Manahan
, one of Seattle's hardest-working DJs and electronic music producers, and includes
Rob Noble
and
Jellyfyst
. The show starts at 8 pm and is $10 at the door for those 18 and up.
CONCRETE GRIP CD RELEASE
Metal fans can get their fix this weekend, too, with
Concrete Grip's
album release show Friday. The slam metal act has been hitting the Spokane pavement since 2005, and this year they're finally putting out their new studio album
Architect of Havoc
. Bill Hempel's deafening roar surprises with its range, switching to near-singing every now and then, and you can feel all the anguish when in "Tenfold" he screams "Grip your fist when you're pissed at the world!" The group plans to play the album in its entirety at Friday's show at the Palamino, which is $8 and starts at 7 pm.
LUSH IN SPACE
Starting Sunday, the Observatory is throwing it's own mini music festival called Lush in Space. The event runs through the week, but kicks off with
Yardsss, Wrtch and Ben Jennings
. A whole bunch of indie rock and punk acts play the festival as well as Seattle group
Helms Alee
(Thursday). Take a look at the entire lineup
right here.
$20 will get you into all six nights.
Looking for even more music options? Check out the other awesome bands playing this weekend
right here
.