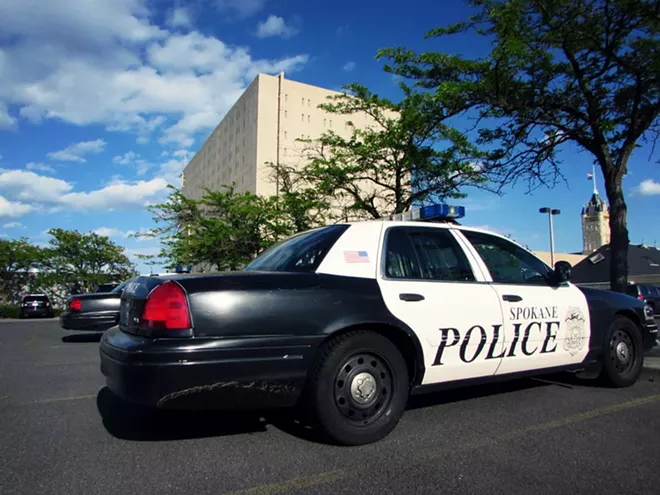 Former Interim Law Enforcement Director
Jim McDevitt's
last day at the Spokane Police Department was June 30.
On the way out the door, McDevitt made several promotions within the top rungs of the department and added two majors to SPD's ranks. But these
moves have some officers raising serious questions about his decisions. Why these people? And why now, before the new chief is in place?
Tracie Meidl's promotion to captain in charge of investigations, for example, is one move that's raising eyebrows. Tracie Meidl is married to Assistant Chief Craig Meidl and was formerly a lieutenant in charge of community outreach.
After hearing of the
promotions,
recently retired Sgt. Joel Fertakis fired off an email to the mayor, city council members and some in SPD's command staff criticizing the decisions.
In his email, and later in a phone conversation with the
Inlander,
Fertakis took issue with the timing of the promotions, questioned the qualifications of the promoted individuals and described the moves as "political cronyism at its worst."
"The police department leadership is really no different than [it was] under Roger Bragdon or Anne Kirkpatrick, handing out undeserved positions to people when they aren't the most qualified," Fertakis wrote in the email. "The culture of the top brass will never change. The rank and file kept hearing while I was there that 'The police department needs to be fixed.' After the SPD has jumped through all the hoops forced on us by the Use of Force Commission, the DOJ, CIT, body cameras, etc, there is STILL one thing to fix: The Spokane Police Department leadership at the top level."
Fertakis retired July 1st after 31 years with the department.
"None of these promotions are permanent," McDevitt says today. "I wanted to preserve the new chief's ability to rearrange things the way he or she wants after getting the lay of the land."
He adds that it could be September or later before the chief's chair is filled, so his new structure could be in place for a couple months. McDevitt says he based his decisions on his four-month evaluation of SPD and its employees. One thing he found was an inadequate job of training existing employees to take on command and leadership roles.
Here are the recent promotions, according to McDevitt:
•
Eric Olsen
was promoted from captain to
the

new
position of major in charge of investigations. Olsen was formerly a captain in charge of investigations and was
the supervisor named in a
whistleblower complaint
of an illegal seizure of $13,000.
•
Tracie Meidl
took Olsen's old job as captain of investigations. Again, Tracie Meidl is married to Assistant Chief Craig Meidl and was formerly a lieutenant in charge of community outreach. (McDevitt emphasized that it was not Craig Meidl's decision to promote Tracie Meidl.)
•
Kevin King
was promoted to major of patrol, which means he's also in charge of all the precinct captains. King was formerly a lieutenant at the academy.
"There's no need for a captain and a major in those positions," Fertakis says. "It's just creating another layer of bureaucracy."
Fertakis suggested that a rift between
Asst
. Chief Meidl and some members of the command staff dating back to former Chief Frank Straub's days may have contributed to the decision of which employees to promote.
For his part, Meidl says the promotions were needed to help him run the day-to-day operations following McDevitt's departure.
"These will be temporary changes ... to help us meet our department's logistical needs until the new chief is in place and subsequently decides what permanent moves/changes he may want to make," Meidl wrote in an email.
Fertakis says he received a lot of support from current officers after he sent his critical email.
"This runs deep, and it's not just me," Fertakis says. "It's down to the sergeant level at least. People are frustrated. A lot of guys have an attitude of 'Oh well, we can't do anything about it, so
why
get your shorts in a wad?' But I had enough."