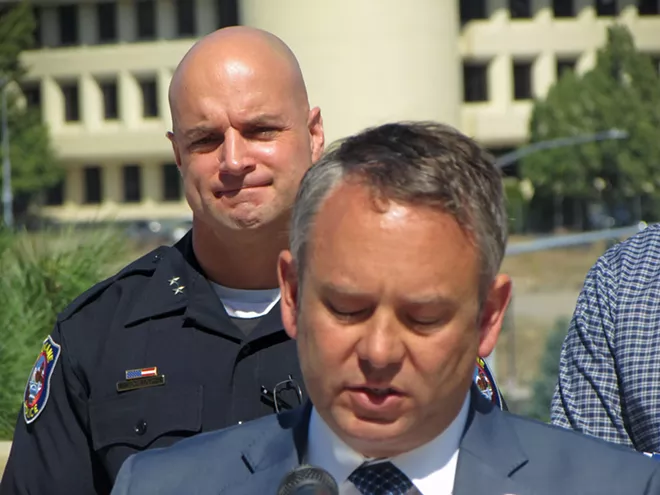 Mayor David Condon announced he would not submit his appointment for police chief for approval by city council — at least not for an indeterminate period of time — as required by city law. The city council says they're going to give the thumbs up (or down) anyway.
"If [the mayor] won't follow the law, we will do his job for him," Council President Stuckart says in an email referring to Condon's refusal to offer up Meidl for confirmation.
Councilwoman Lori Kinnear submitted a resolution asking the city council to consider approving freshly appointed police Chief Craig Meidl.
"Since Monday's surprise announcement, I have heard from citizens that feel shut out of the process," Kinnear writes in a statement. "Engaging the community with public forums and bringing forward the confirmation resolution
allow
us a path forward."
Earlier
this week
, Mayor David Condon announced his decision to appoint Meidl. According to the city charter, the mayor has authority to appoint the police chief, but that appointment
requires approval
of the city council.
"After much community discussion over the past several months, the mayor decided the time had come to promote from within the department," city spokesman Brian Coddington writes in an email explaining Condon's thought process. "Unfortunately, he made the difficult decision not to bring Chief Meidl for confirmation at this time out of an abundance of caution and concern for him and his career."
Condon's decision to discard two outside candidates and promote from within
followed
recommendations from the Police Leadership Advisory Committee on qualifications for the next chief, a nationwide recruiting effort by an outside firm and the input of a selection committee comprised of nine city leaders and community members. That process turned up three candidates (which was eventually reduced to two after one dropped out) who participated in a public interview and answered questions from more panels comprised of more than 40 stakeholders.
For the entire time leading up to Meidl's appointment, he was not formally interviewed for the chief's job, nor did he apply.
Meidl, for his part, has been haunted for his role in the infamous salute of disgraced SPD officer and convicted felon Karl Thompson following his sentencing hearing. At the announcement Monday, Meidl pledged to foster transparency,
honesty
and accountability during his tenure as chief. He has also made a
public apology
for the salute.
The resolution is scheduled for a vote August 22. Public forums will be scheduled before the vote to give citizens an opportunity to weigh in and ask questions of Meidl.
"Leaving this appointment in limbo is not fair to Craig Meidl, the officers he would lead, or the citizens of
Spokane
," Councilwoman Karen Stratton writes in a statement. "We all deserve clarity and stability in
leadership
of the Police Department, and the public forums will provide that."