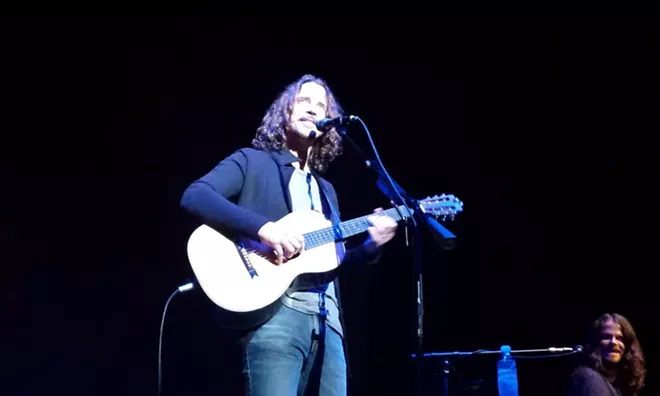 Any worries that a
Chris Cornell
show delivered primarily solo, accompanied by an acoustic guitar, would be less satisfying than seeing the Soundgarden and Audioslave frontman in full, electrified rock god mode were quickly dashed Wednesday when he casually took the stage at the Fox Theater and waved to the audience before picking up a guitar.
The reverence fans have for Cornell was obvious considering the standing ovation he got before playing a note — and several more that seemed to occur after every other song. The man possesses one of the best voices in rock, and if Wednesday's show proved anything, it's that Cornell has as much of an exciting future ahead as he has a storied history that began as a leader of Seattle's so-called "grunge" movement, continued to global superstardom and more recently settled into a solo career that has him exploring all manners of sonic approaches to his songwriting.
Cornell spent three hours delivering 28 songs Wednesday night as he celebrated his birthday in Spokane, as well as the
announcement earlier in the day
that the Temple of the Dog project Cornell did with members of Pearl Jam and Soundgarden in 1990 would commence its first-ever tour this fall.
The set was filled with songs from throughout Cornell's career, most of them accompanied by a story about the song's origins, or a funny non sequitur that showed a guy known for dark lyrics has a wicked sense of humor. There were also plenty of unexpected covers, including Prince's "Nothing Compares 2 U" early on to Michael Jackson's "Billie Jean" in the encore as the show approached midnight.
In between, it was a tour de force of skilled showmanship and stunning vocals. Several songs came from his most recent solo album
Higher Truth,
including the show-opening "Before We Disappear" and night-closing title track, as well as the love song "Josephine" Cornell said he began writing as a love song for his now-wife 14 years before he finished it.
Surrounded by guitars and effects pedals, as well as an on-stage turntable Cornell used to warm up the audience with some Marvin Gaye and to accompany his stirring version of "When I'm Down," Cornell never stayed in one spot for long. He roamed the stage on one song, sat on a stool the next, and occasionally called out multi-instrumentalist Brian Gibson to add some texture to songs via piano, cello or, on "Nearly Forget My Broken Heart," some mandolin.
"It's more or less a hippie instrument now," Cornell said of the mandolin he bought 20 years ago but never really learned to play. "No hippie could play the cello, because you f—-ing have to work!"
Cornell revamped Bob Dylan's "The Times They Are A-Changin'" into a song with all-new lyrics, and later took the music from U2's "One" and sung the words to Metallica's song of the same name, creating one of the better mashups I've heard in a while.
While those unusual sidetracks were worthy, the highlights of the show clearly came with fan favorites from Cornell's various bands. Soundgarden's "Fell On Black Days," "Black Hole Sun," "Blow Up The Outside World" and "4th of July" all killed, as did his revamping of "Rusty Cage" inspired, he said, but Johnny Cash's cover of the song. Audioslave songs like "I Am The Highway" and "Doesn't Remind Me" hit harder for me acoustically than the versions done with the Rage Against The Machine boys in the band.
When Cornell played the first Temple of the Dog song of the night, "Say Hello 2 Heaven," he said, "Starting today, this song gets a new chapter" in a nod to the tour announcement. An instant, venue-wide singalong erupted to that one, as well as Temple songs "Hunger Strike" and "Call Me a Dog."
At the start of the encore, 22 songs into the show, Cornell's brother Peter hit the stage and played Billy Joel's "Piano Man," an odd but sweet addition to a show that was excellent throughout.
"You know, I spend most of my birthdays on stage, since I tour a lot in the summer," Cornell said a version of "Fell on Black Days" that featured an ungodly, awesome howl. "And I wouldn't have it any other way."
It was certainly a happy birthday for everyone in the room Wednesday.
Here's a complete setlist:
1. Before We Disappear
2. Can't Change Me
3. 'Til the Sun Comes Back Around
4. Nothing Compares 2 U
5. Nearly Forgot My Broken Heart
6. The Times They Are A-Changin' Back
7. Josephine
8. Fell On Black Days
9. 4th of July
10. Doesn't Remind Me
11. Say Hello 2 Heaven
12. Blow Up The Outside World
13. Let Your Eyes Wander
14. You Know My Name
15. I Am The Highway
16. When I'm Down
17. Rusty Cage
18. Black Hole Sun
19. Hunger Strike
20. The Keeper
21. Wooden Jesus
22. One
23. Piano Man (Peter Cornell)
24. Through The Window
25. Billie Jean
26. Seasons
27. Call Me a Dog
28. Higher Truth