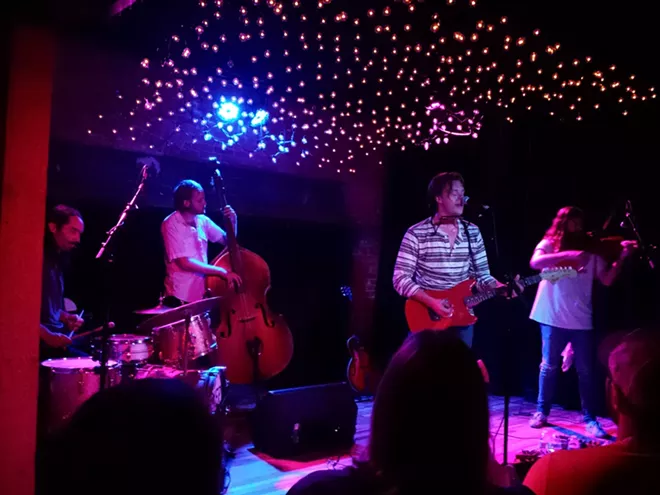 There's a feeling that comes with seeing a young artist on the rise exceed expectations on stage, a building excitement song by song that what you're witnessing is not just as good as advertised, but on the verge of something huge.
That was certainly the case for me watching
Parker Millsap
on stage at the Bartlett Monday, playing to a near-sold-out room. I'd already heard and fell in love with his two most-recent albums, his 2014 self-titled release and the new
The Very Last Day.
But seeing Millsap and his three backing musicians deliver live, ripping through 19 songs ranging from foot-stomping rave-ups to delicate ballads, was an entirely different experience than popping on some headphones. The 23-year-old is a charismatic frontman, a smiling bandleader easy with his between-song banter and in trading barbs with his fellow musicians.
More importantly, every song was an absolute killer performance, each building on the previous to the point that my interior monologue went from "this guy's going to be huge" to "Holy shit he's good!" to "In five years I'm probably going to be driving long distances to see this guy." Millsap's blend of rock, country, blues and folk hits me right in my roots-loving sweet spot.
The set leaned heavily on
The Very Last Day
, as well it should;
Millsap
's latest earned him a nomination for Album of the Year from the
Americana Music Association
, alongside established elders Lucinda Williams, Jason Isbell and Chris Stapleton.
The show-opening "Pining" is a poppy love song and set the joyful tone early. "Heaven Sent," an epic ballad about a young Christian man and his father coming to grips with his homosexuality, was excellent, as was "Morning Blues," on which Millsap played electric guitar and strapped on a harmonica.
"This is a song about the nuclear annihilation of everyone and everything, and I hope you enjoy it," Millsap said by way of introducing the title track to
The Very Last Day
, a nice indication of his sense of humor. He introduced "You Gotta Move" by saying with a big grin and perfect comic timing,"this is an old blues song about the Rapture. Or something."
Elsewhere, songs from his self-titled album made clear there were some fans in the audience who knew his work well; both "Old Time Religion" and "Truck Stop Gospel" had folks in the crowd singing along. He covered "Comin' Undone," a song he wrote with Sarah Jarosz for her latest album, as well as old blues tune "The Hesitation Blues," working up a sweat early in the show on that one.
Millsap's band was excellent, too; standup bassist Michael Rose, drummer Paddy Ryan and fiddler Daniel Foulks (introduced by Millsap as "the only Eagles fan in the band," despite wearing an Iggy and the Stooges T-shirt) all fleshed out the songs more than capably, giving Millsap the ability to bounce between guitars.
When Millsap strapped on an electric for the first time for a brand-new song, "Other Arrangements," it offered a glimpse into an exciting future for his music. The tune was a shambling blues-rock number, delivered loud and kind of sloppy. It was, in a word, awesome.
But you can say that for Millsap's whole show.