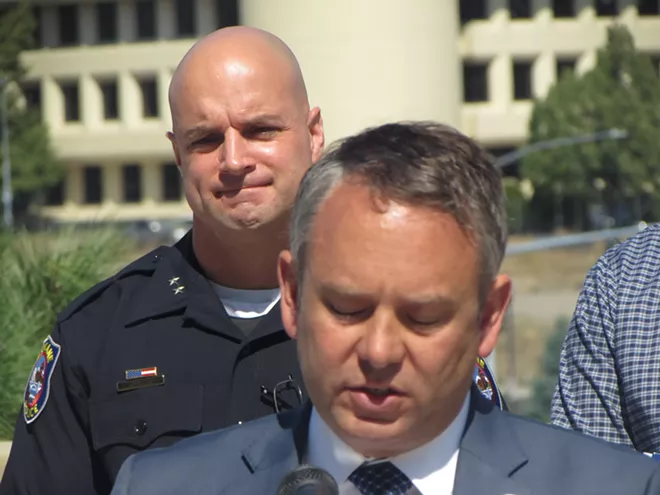 Earlier today we
posted a blog
about the impending decision before the Spokane City Council tonight — whether or not Craig Meidl will be Spokane's next police chief.
Well, about that...
We just got word that Meidl's fate likely will not be decided tonight. Instead, he will go through the same process as the 10 semifinalists considered by the selection committee, according to a press release from the city. That means Meidl will answer the same written and video questions that other outside candidates were required to answer.
"We appreciate the Mayor's willingness to take this additional step in the process of finding Spokane's next police chief," Councilwoman Lori Kinnear says, who along with Councilman Breean Beggs submitted a letter with this proposal to Mayor David Condon.
"We want to be clear that our call for completing the promised public process with a comparison between candidates is in no way an indication of a negative judgment on Craig Meidl's ability to perform the job," the letter reads (embedded below). "We have worked closely with him over the last few months as he has performed his duties of acting chief and found him to be very cooperative, talented and sincere."
The resolution to confirm Meidl's appointment is still on the table for tonight's meeting (which begins at 6 pm), but it will likely be amended to reflect this expanded process.
"That's what we had originally asked the mayor
for:
more candidates to be interviewed to compare," says Council President Ben Stuckart. "The biggest concerns I heard from citizens is the process was being subverted. It's a great solution, and one I think all of us are looking for."
Mayor LTR Re Police Chief 08 22 16Final