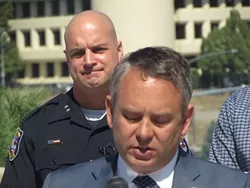 ON INLANDER.COM
NEWS
: A Spokane County Sheriff's Office detective has been sharing memes, videos and articles on Facebook that
trash the Black Lives Matter
movement.

NEWS
: We thought Spokane City Council
would vote last night
on Mayor David Condon's pick for police chief, but then we found out Meidl's fate
would not be decided
until later. He will now go through the same interview process as the other candidates.

ARTS & CULTURE
: Spokane Arts director Laura Becker is
leaving Spokane
for Santa Monica, California.
IN OTHER NEWS
Eastern Washington fires
The Yale Road fire 15 miles south of Spokane has now burned 4,000 acres and destroyed at least 10 homes. The Hart Road fire northwest of Spokane has burned 10,000 acres and nearly a dozen buildings and forced evacuations of the town of Wellpinit.
Both fires are at 0 percent containment
, according to firefighters. (
Spokesman-Review
)
Smoke in the air
You may have noticed Spokane is
filled with smoke
. The air quality is now somewhere between "Unhealthy for Sensitive Groups" and "Moderate," according to Spokane Clean Air.
Check for yourself here
. (KHQ)
Clinton's emails
A federal judge has ordered that the State Department accelerate the
release of nearly 15,000
Hillary Clinton emails, meaning they could be released weeks before the election. Meanwhile, Republicans allege that
emails released Monday
from Clinton's tenure as Secretary of State show that Clinton traded favors for donations to the Clinton Foundation. Clinton and the foundation deny the charge.
Trump on immigration
Donald Trump says he has an immigration plan, and it apparently no longer involves deporting 11 million people using a "deportation force." Rather, it will be
similar to what Obama is doing
, but with "a lot more energy."