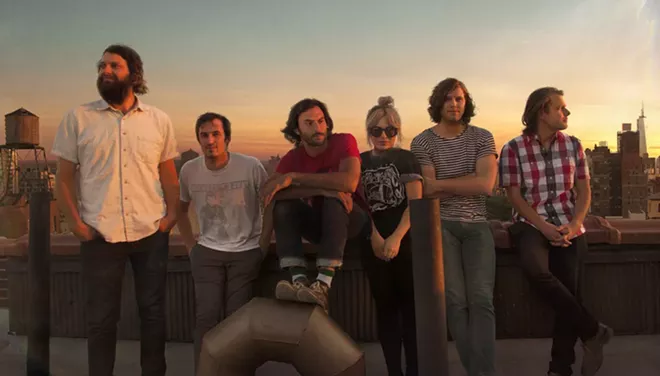 Hopefully you survived the Fall Arts Tour and the rain and the debate, and you're looking forward to a week of fun and frivolity. Hey, you deserve it! So peruse our event listings and Staff Picks and get out there!
Here are some highlights of the week ahead, and there's a lot going on:
Monday, Oct. 10
LIVE BANDS | The Head and the Heart are simply one of the best live bands around; I've seen them in small clubs, mid-sized theaters and big-ass outdoor festival fields, and they'll always been worthy.
Read our interview with the band's Charity Rose Thielen
about their hard road toward releasing their new major-label album, and consider checking out
the show at the INB
Monday. Here's a sample of their new stuff:
COMMUNITY | Celebrate Spokane's brand-spanking-new
Indigenous Peoples' Day
with some stirring words and a walk to Canada Island.
Tuesday, Oct. 11
WORDS | It's really early in the morning, but hearing really smart folks talk over breakfast is a pretty good way to start the day. In this case, the smart folk is
Fareed Zakaria
, speaking at the Whitworth President's Leadership Forum at the Spokane Convention Center.
WORDS | It's later in the day, but another really smart guy is coming to town to chat. In this case, it's
Jeff Koehler
, a Gonzaga alum and cooking and travel writer dropping by to talk about his travels and writing, and probably his book
Darjeeling: A History of the World's Greatest Tea
.
Wednesday, Oct. 12
LIVE BANDS |
One hell of a bill
is in store at The Big Dipper on Wednesday. Headliners the Supersuckers are doing their country thing, which they excel at, and they're joined by hillbilly badass Jesse Dayton and locals Whiskey Dick Mountain. Hard to beat that on humpday, people. Here's a bit of Supersuckers new countrified album,
Holdin' The Bag
:
COMEDY | Standup guy
Ralphie May
returns to the Spokane Comedy Club for a one-night shot a few months after he apparently
saved a kid's life
at the Spokane airport.
Thursday, Oct. 13
THEATER | The University of Idaho gives the old Greek legend Medea a twist with
Medea: Her Story
, opening today and running through the 23rd.
Friday, Oct. 14
WORDS | The EWU Visiting Writer Series continues with the arrival of essayist
Kristen Dombeck
, who will be doing a free reading and discussion at Auntie's.
COMEDY | The Bartlett hosts
Microbiography
, in which real-life couple Ryan and Lindsay Tucker tells stories of their life together, and comedy troupe The Freedom Association immediately turns those stories into improv art.
Saturday, Oct. 15
COMMUNITY | Hey, it's
Reforest Spokane Day
! So plant something, people!