Hope all you Seahawks fans took advantage of a bye-week Sunday for your NFL squad and did something worthwhile. I hit up Green Bluff for Halloween pumpkins and apple pie, and I'm ready to hunker down for the non-stop run to the playoffs commencing on Sunday when Seattle plays the suddenly dangerous Falcons.
There was plenty of football over the weekend, though, thanks to our local college squads doing some serious work. Let's break it down.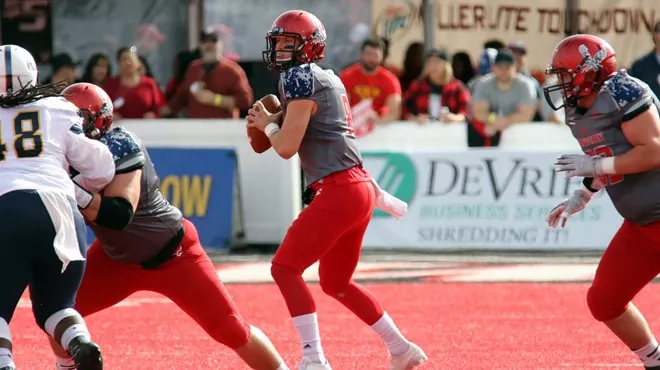 EAGLES DELIVER, AGAIN
Eastern Washington is one scary-good squad, putting up video-game numbers on offense on a weekly basis, so much so that the historic statistics senior wide receiever Cooper Kupp is racking up are sort of lost in the fact that everyone on the team is crushing it, from quarterback Gage Gubrud to wide receiver Shaq Hill.
On Saturday, the
Eags took out Northern Colorado 49-31
, tallying the fifth-most yards for a game in program history (659) while Hill set a record for touchdown catches in a game (4). Kupp was held in check, but everyone else went off, and the game was a blowout after the last two matchups between EWU and UNC went down to the wire.
The big story:
The Eags are ranked No. 4 in the country, are clearly the class of the Big Sky Conference, and their game against Montana at the end of this month looms large. They have a bye this weekend.

What to say to your Eagles-fan friends today:
"Want to go deer-hunting Saturday?" (Deer season opens Saturday for black-tail, white-tail and mule deer, just fyi).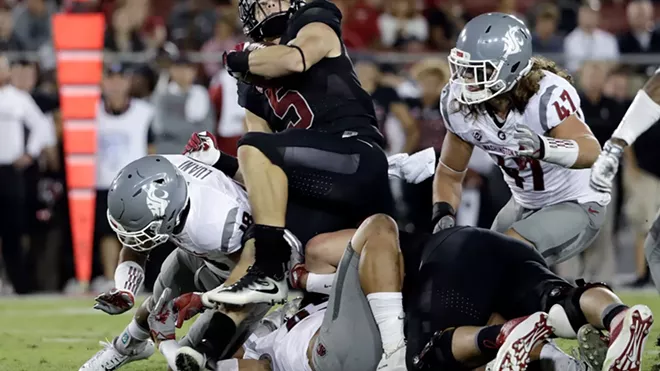 COUGS CRUSH STANFORD
There was much gnashing of teeth when Washington State lost to Eastern Washington and Boise State earlier this season, and when there seemed to be a different player arrested every week, but all is right in Pullman now.
On Saturday night, the Cougs followed up their home pummeling of Oregon with a road win at Stanford,
beating the Cardinal 42-16
. Quarterback Luke Falk tossed four touchdown passes, taking advantage of injured missing players in Stanford's secondary, and suddenly the Cougars are looking good in the Pac-12 North division.
The big story:
There are only two Pac 12 teams who remain undefeated in conference play, the Cougs and rivals UW, who utterly
destroyed Oregon
on Saturday, 70-21. If both teams continue their roll through conference play (likely in UW's case, possible for WSU), the Apple Cup Nov. 25 in Pullman would be a showdown to go to the conference championship game.
This Saturday, the Cougs host UCLA, while Washington has a bye week.
What to say to your Cougar-fan friends today:
"Can you get tickets for the Apple Cup?"
CAN IDAHO GO BOWLING?
Lost in the attention the Cougs are getting on the Palouse for taking out Oregon and Stanford in back to back weeks is the fact the University of Idaho pulled off an upset on the road against Louisiana-Monroe on Saturday,
winning 34-31 on a last-second field goal
.
The big story:
Idaho is 3-3 overall, and 1-1 in the Sun Belt Conference. If they win three of their remaining six games, the Vandals could make a bowl game. They also have three home games remaining that would do the trick, starting this Saturday against New Mexico State.
What to say to your Vandals-fan friends today:
"Thank God for that kicker, am I right?"