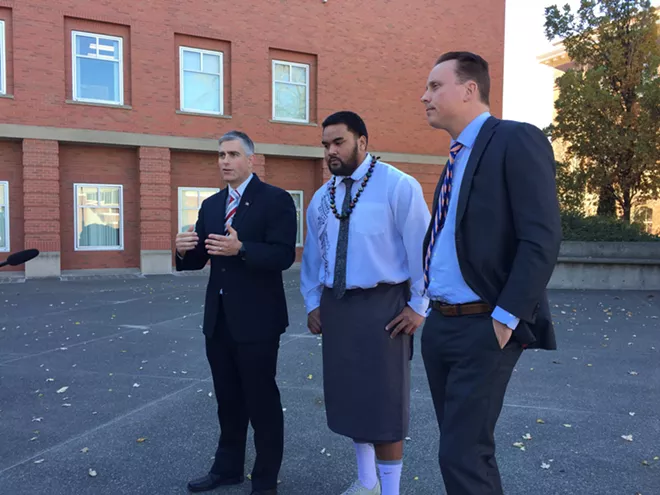 The Washington State University Board of Regents and president Kirk Schulz would not immediately reinstate suspended football player Robert Barber after his friends, teammates and state Sen. Michael Baumgartner defended Barber during a public comment period Friday.
At one point, Baumgartner stormed out of the meeting, yelling, "If you don't fix this, I goddamn will."
Barber was expelled by the school after
a brawl
over the summer that left one student with a broken jaw and one student with a concussion. The school then reduced the expulsion to a suspension.
Video of the brawl
shows Barber hitting the student who was concussed twice, including once after that student had fallen down.
Though Barber remains suspended, Schulz said Barber will be allowed to graduate with a criminal justice degree at the end of the semester by completing coursework online.
Baumgartner, vice chair of the legislator's higher education committee, called on the board to re-evaluate Barber's suspension status and lift all suspensions that do not deal with federal Title IX standards, which prohibit discrimination on the basis of sex in any federally funded education program or activity.
"The situation with the student conduct board regarding Robert Barber and a number of students across this campus is absurd and outrageous and it needs to be fixed immediately," Baumgartner said.
Baumgartner said the suspension could impact Barber's football career. He said Barber deserves the right to have the legal process play out. While Baumgartner had previously said his call on the board to reinstate Barber is not about football, he apparently changed his mind, saying football is Barber's chance to "take care of his family."
"This is about football," Baumgartner said.
T.J. Fehoko, another football player who has been expelled by the university but has never played in a game, was not discussed at the meeting. Neither was
Pedro Diaz
, a student involved in the altercation also suspended.
Alisa Smith contributed to this report.