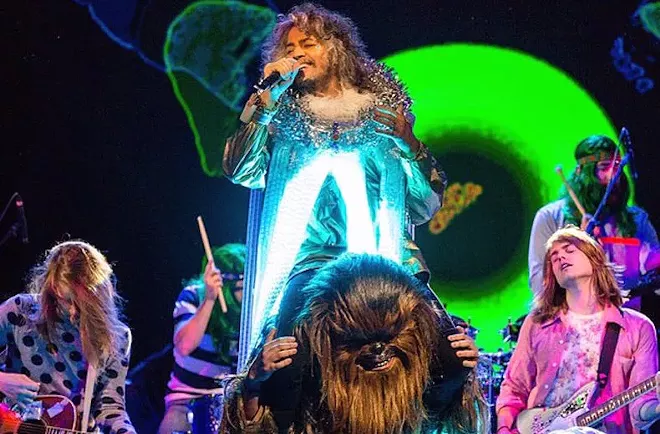 You gotta love when the harsh, dark days of winter give way to warmer temps and an uptick in the number of touring bands heading to Spokane.
In just the last week we've heard about more-than-worthy shows scheduling the Lilac City, offering a diversity of sound and venues, and making music dorks like myself start some serious financial planning to handle buying all these tickets.
The highlight from today? Word that the incomparable
Flaming Lips
— they of the
giant hamster ball
, inexplicable Miley Cyrus collaborations and incredibly inventive tunes — are coming by the Knitting Factory on May 13 (a Saturday!).
Tickets go on sale Friday
at 10 am. and are $38 in advance/$40 day of show for the all-ages gig. (
We fantasized about this
happening just a couple issues ago. Behold our power!)
The Oklahoma psychedelic rock crew has a new album
Oczy Mlody
and a stage show unlike anything you'll catch from most bands with nearly four decades of performing under their belts. Here's a trippy vid from their new album:
Also announced recently, alt-country cats
Son Volt
are swinging by The Barlett for a show on Sunday, May 7. The band is led by Jay Farrar, possessor of one of the great voices in modern American music, as well as former Uncle Tupelo bandmate with Wilco's Jeff Tweedy. Son Volt has a new album,
Notes of Blue
, arriving on Feb. 17. Tickets for the show are $25 in advance, $28 day of show through
The Bartlett website
.
Personally, I'll be super-stoked to hear them do this tune from their excellent debut,
Trace
:
Finally, The Pin! also announced a killer show from Portland rockers
Red Fang
, coming to Spokane on March 15. Tickets are $15 in advance and $20 day of show, and available in advance from 4,000 Holes and at
MonumentalShows.com
.
Not only are Red Fang killer live, they make great videos, too: