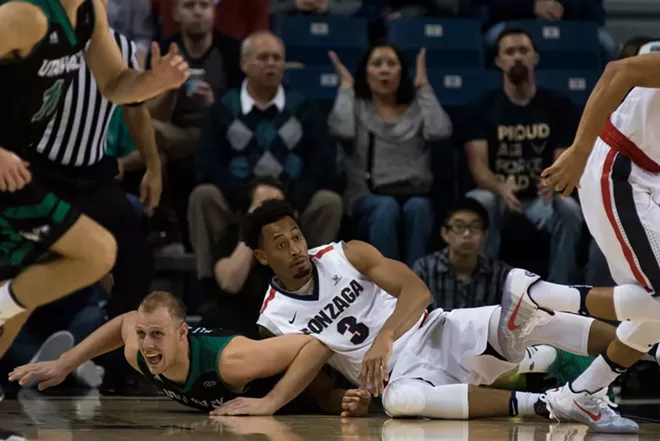 This won't come as a shock to anyone who pays attention to such things, but
Gonzaga's men's basketball team officially scaled to the top of the Associated Press Top 25
basketball poll when the results of the latest round of voting were revealed this morning. It's only the second time they've reached No. 1 in school history.
It's no surprise because a week ago the Zags were at No. 3, ranked behind Villanova and Kansas, two formidable presences. But both those team took losses last week, while Gonzaga continued steamrolling through its West Coast Conference schedule. On Saturday, they went on the road and
delivered a 96-49 beatdown
of Pepperdine that's become almost normal in its efficient ruthlessness this season.
What makes Gonzaga different than the typical No. 1 team in the weekly poll? Well, they
rarely get to the top spot
during the regular season, even though teams regularly move around within the upper tier of the rankings. Call it an East Coast bias, or simply disrespect to the quality of Gonzaga's conference opponents, but voters typically don't give the Spokane squad much love.
Also making Gonzaga different? This year, they just might not give up the No. 1 before
March Madness
rolls around. They still have road games against BYU and St. Mary's (currently ranked No. 18), their two toughest foes in the WCC, but this ain't your normal Zags team. They're not even that similar to the team that reached No. 1 four years ago, in that the combination of excellent transfers (Nigel Williams-Goss, Jordan Matthews, Johnathan Williams) and homegrown talent (Przemek Karnowski, freshman Zach Collins) has blended quickly into a defensive force, as well as the offensively explosive team Zags fans have come to expect through the years.
Gonzaga always has a target on its back in the WCC as the team to beat, and being ranked No. 1 in the nation won't change that. Next up? What is suddenly the biggest game of the year when the Bulldogs visit Provo for a showdown with BYU at the school's 19,000-capacity Marriott Center. The
game is Thursday at 8 pm and will be shown on ESPN2
.