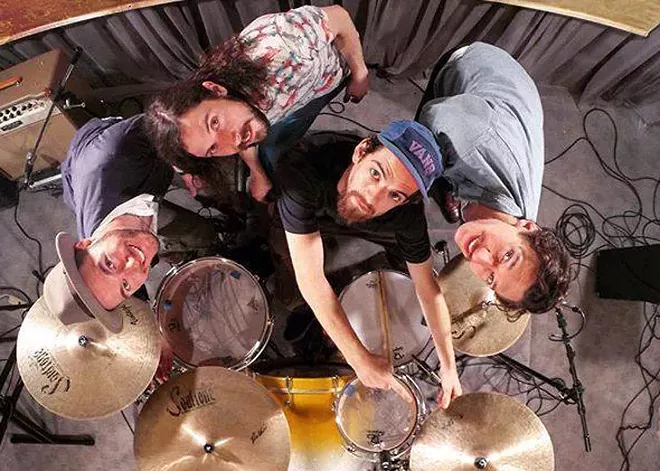 There is plenty to in the Inland Northwest as we approach, ever so slowly, toward full-on spring. Peruse our
event listings
and
Staff Picks
, and consider some highlights of the week ahead curated by yours truly:
Monday, March 6
CONCERTS | The
Gonzaga Symphony Orchestra
takes center stage at the Fox, performing works by Spohr, Mozart and Rachmaninoff.
Tuesday, March 7
WORDS | Spark Central is hosting a
Silent Writing Party
, so join the fun, get some writing done, and keep your mouth shut while Matt Mitchell of Folkinception provides a subtle soundtrack to your work. It's free.
COMMUNITY | Help make your community better, including its cuddly critters, by
Knitting for Shelter Pets
this afternoon at the CdA library.
Wednesday, March 8
FOOD & DRINK | The
Fried Chicken & Beer
series continues at The Yards, with chef Adam Hegsted delivering the delicious fowl, and this month Iron Goat bringing the brew.
LIVE BANDS | Reno's
Sextones
swing by The Observatory for a show that also includes local rockers Fat Lady. Here's a little sample of the Sextones' sounds:
Thursday, March 9
WORDS | Olympia-based author
Megan Kruse
drops by Auntie's as part of the EWU Visiting Writers Series for a free reading.
FOOD & DRINK | Read our story about the
Purple Egyptian Barley Project
, then get yourself into some delicious beer and bread at
Bellweather Brewing
.
WORDS | The Taproot Speaker Series at Spark Central welcomes
Spokane Riverkeeper Jerry White
for a talk about our favorite river.
FUNDRAISER | Help local poet Fitz get to the Women of the World Poetry Slam by attending this
Queer Poetry Fundraiser
.
Friday, March 10
MUSIC EVENTS | The Spokane Symphony hosts
Beethoven and Brews
, where you'll hear a whole lotta killer Beethoven after enjoying a beer garden serving a special edition of No-Li beer.
LIVE BANDS |
Shelby Earl
is an outstanding Seattle-based singer/songwriter, and she's headlining the Bartlett at a show also featuring Planes on Paper. Watch for a story on Earl in the new issue of the Inlander, and give this a spin in the meantime:
Saturday, March 11
COMEDY |
Microbiography V
presents a couple of folks — Annie Grieve of Salon Illuminate and Mark Camp of Overbluff Cellars — telling stories from their real lives, then the Freedom Association (Mara Baldwin, Mark Robbins, Pat Thomas) improvising scenes inspired by their stories. Hilarity, we assure you, ensues.