ON INLANDER.COM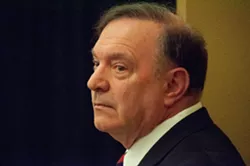 •
NEWS
: An in-depth look at local criminal justice through the eyes of
Spokane County Prosecutor Larry Haskell
and his critics. How 'smart' is Haskell's brand of justice?
•
MUSIC
: The third full-length album from Seattle musician
Shelby Earl
drops tomorrow — she'll play a show at the Bartlett that night.
•
ART:
Contemporary artist
Biscuit Street Preacher
brings his vibrant work, and family, to North Idaho.
IN OTHER NEWS:


•
DEPUTY COMES HOME AFTER SHOOTING
A Spokane County Sheriff's deputy was released yesterday from the hospital after he was shot in the shoulder. The deputy, who has not yet been identified, was responding to a domestic violence call that turned into a four-hour stand off. (
KREM
)
•
IDAHO HIGH SCHOOL BBALL TITLE CALLED INTO QUESTION
Some are questioning the legitimacy of Genesis Prep's state basketball championship. Skeptics point to international players from Nigeria, Uganda and Rwanda at the tiny Post Falls high school, but state officials aren't worried. (
Spokesman-Review
)
•
PORTLAND JUDGE AIDS ICE EVASION

A Multnomah County judge is accused of helping an undocumented immigrant escape ICE agents after the man pleaded guilty to a DUI. The judge ostensibly helped the man leave the courtroom through an employee door, but he was ultimately captured. (
Willamette Week
)
•
SEE YOU IN COURT — AGAIN?

Washington Attorney General Bob Ferguson — you know, the guy who sued the president of the United States less than a month after the president took office — will announce whether he's going to file another lawsuit today. Ferguson's first lawsuit challenged Trump's executive order banning some immigrants and refugees from entering the country. Trump has since revised the order. Ferguson will announce at 11 am whether the revisions pass muster. Stay tuned. (
Seattle Times
)