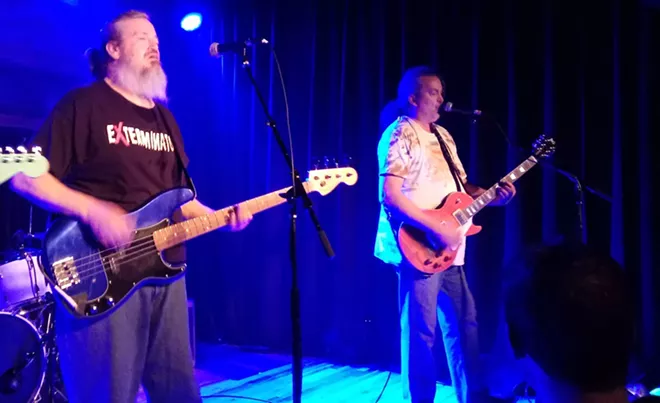 The Meat Puppets are pros when it comes to touring.
I don't mean "pro" in the sense of slick or methodical — indeed, the band revels in turning once-brief songs into some epic jams, as well as performing oddball cover tunes. I mean "pro" in the sense that they deliver every time they hit the stage. They certainly did at their sold-out show at the Bartlett Monday night.
The set list leaned heavily toward the older stuff, but brothers Curt (guitar) and Cris Kirkwood (bass), along with drummer Shandon Sahm and extra guitarist (and Curt's son) Elmo Kirkwood, touched on all aspects of a four-decade career that's seen them tackle styles ranging from rapid-fire punk to loping country tunes and everything in between.
That dexterity was on display Monday from the get-go as the Kirkwoods blazed through the set-opening "
Sam
" in half-rapping unison before segueing straight into a twangy tune with gospel overtones, "Comin' Down."
Curt Kirkwood was one of the first old punks to forge his way into monster guitar solos back in the '80s, and he's still a player with some jaw-dropping skills. Trading riffs with his son, the guitarist and singer was clearly pleased with the sounds, smiling at his bandmates when songs would take an intricate turn.
A slew of older songs familiar to fans of the band's SST Records heyday popped up throughout, from "
Oh Me
" and "Lost" to "Lake of Fire," "
Plateau
" and "Attacked By Monsters." And the band's lone sort-of hit from the early '90s, "
Backwater
," still garners a loud reaction from audiences who might be less familiar with the band's first few albums.
The unexpected treats turned out to be some of the night's best performances, as is often the case. "The Monkey and the Snake" from 2009's
Sewn Together
album was a highlight early on (complete with whistling!), as was the cover of traditional Irish folk tune "Whiskey in the Jar," coming a few days after St. Paddy's. Another surprise was the rock-solid cover of "Mockin' Bird Hill," a
song popularized by Patti Page
in 1951.
There's a certain joy in watching grizzled old punks smiling at each other as they play to a packed club. There was a lot of that at the Bartlett Monday as the Meat Puppets closed it down with "Touchdown King" and a version of "Up on the Sun" that they stretched into a monstrous instrumental workout between the song's undeniable pop hooks.
The somewhat sloppy, sort of improvised dismantling of a song that's beautifully catchy at heart — that finale was a pretty good summation of everything the Meat Puppets do well.