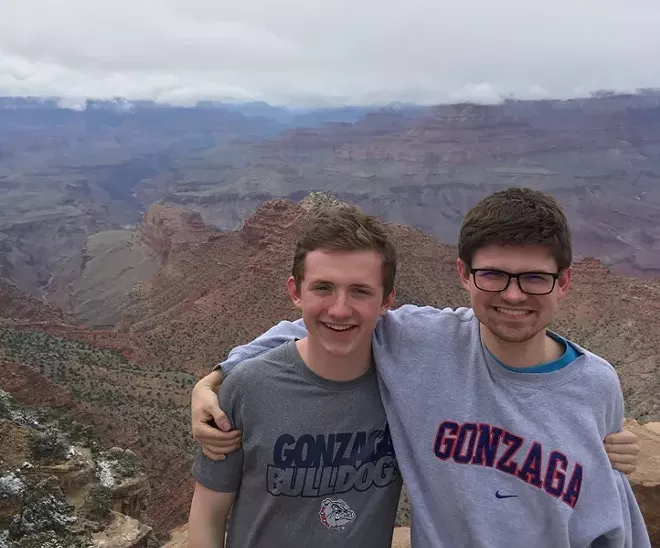 [Editor's note: The Inlander's editorial intern Tuck Clarry left for a Final Four roadtrip on Thursday. We didn't know if we'd ever hear from him again. Thankfully, we did. He recounts his experiences of the day-long journey:]
At roughly 5 pm Thursday, five guys crammed into a mid-2000s Audi Quattro to go to the
biggest game they or their university had ever seen
. The timing was important because there was plenty of maneuvering to even leave that early. Freshman "Montana" Rob had a huge calc test Friday morning that he had to plead to take early. Freshman Tommy Walters had to orchestrate a series of deals with his engineering professors for the labs he'd miss at the beginning of next week.
But the others, seniors Adam Bosworth, Tommy's older brother Andrew Walters and myself, had nothing in the way between us and and Phoenix. Andrew, whose car we took, created an itinerary to drive straight through. If we left at five we'd get there 1 pm Friday a mere 21 hours.
The 1,350-mile route had other plans.
Andrew informed the group text that he had gone through all of the necessary road trip preparations. After discovering his aux cord kit wouldn't fit in his car's console, he burned 38 CDs over 8 hours. He planned on getting his oil changed, but decided it wasn't worth the asking price or the time requirement. We stopped at the first Montana gas station over the border to fill up an empty oil pan.
We zoomed through Montana and headed through southern Idaho when Idaho Falls offered us weather that we would have expected a month or two ago. Andrew, the second-in-rotation driver, went 10 under the required 80 miles per hour due to a flurry of snow and fog offering less than a car-length of visibility. His mix of 80s rock didn't seem to help anyone but him through the hour-six situation.
<!———EndFragment———>
By hour 10 or so we'd made it to the highway near Salt Lake City. The backseat had just found an update on Gonzaga's Final Four group page of other students driving down to the games. A car of students found themselves in a ditch back in that bad stretch in Idaho Falls. They were all okay, but four of them were looking for an alternative ride to Phoenix.
I had promised I'd do any night-driving that was necessary, but I had nodded off for an hour or so until we got past Provo. Instead, I had the pleasure of driving through southern Utah from 4 am until we met Arizona. That turned out to be the "funnest" part of the drive, as we climbed through the mountain-surrounded highway with our sole neighbors being semi-trucks sharing snow-covered passing lanes and a perfectly slick right lane.
We were through about 10 CDs at this point and I asked that we listen to Andrew's two-CD mix of trap music. Gucci Mane had delivered me through most of the drive, but as I hovered over ice, with minimal steering-wheel influence, I asked who was yelling in the following track.
"Montana 300" Andrew said. I asked to switch mix themes as I didn't want to be yelled at while I was trying not to die. Montana Rob threw in a mix of '50s soul and it served as almost a Xanax to the mood of the car.
Eventually, we made it to Page, Arizona. Greeted by sub-40-degree weather, we were told that the horseshoe canyon further down the road was a can't miss. A mile hike resulted in a beautiful scene that drew tourists ranging from Cal Berkley kids to a giant tour bus full of Japanese tourists. We looked like idiots without selfie sticks. On our way out we ran into the first sighting of fellow Zags.
Checking Snap stories, it seems not too many drove straight through Thursday; others had rested in Boise or elsewhere. We were the first of the road travelers.
It was around 3 pm Friday and two hours outside of Phoenix that we discovered that the Walters boys' cousin we'd be staying with would be working until 9 pm. We had time to kill. We'd already see one great canyon, why not a grand one?
Again, noting the cold weather, off-and-on snowfall and fog, we debated about how great the Grand Canyon could be. For $30 we were stunned by its scale and range… but also how little there was to do there. Standing out in hoodies in snow and 32 degrees made the visit about an hour and a half long, with half of that being in the car driving to other view points and the coffee shop to stunt the tiredness of being in a closed cabin with minimal sleep for over 24 hours.
The five of us eventually found our place and were greeted with plenty of pizza and drinks. We lasted all of an hour before we all crashed in preparation of today's big game.<!———EndFragment———>