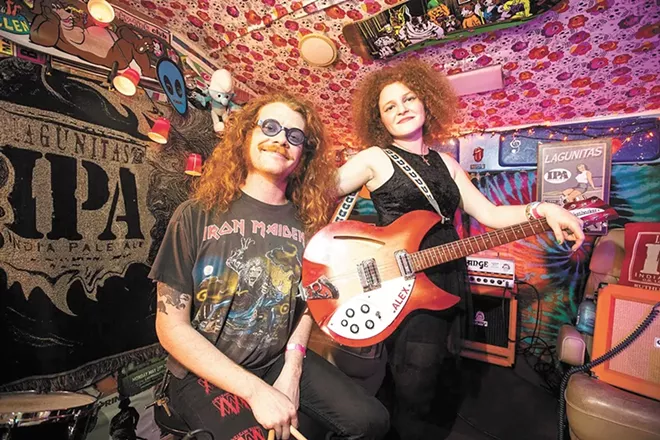 Just like that we're in April. And there was much rejoicing! There are plenty of entertaining options for you in our
event listings
and
Staff Picks
, so dig in and find some fun.
Here are some highlights of the week ahead:
Monday, April 3
FOOD & DRINK | Yup, it's spring break for the public schools this week, so why not keep them learning while having fun at the same time?
Spring Break Cooking Camp
at Second Harvest Food Bank will have your young'uns making you meals in no time.
Tuesday, April 4
FILM | Fun fact: the Eurythmics-led soundtrack to the film version of
1984
is an under-appreciated gem. Hear it for yourself when you step into George Orwell's dystopian nightmare, one that seems more true to life every day. It plays at the Garland Theater tonight. Here's a look at the film:
Wednesday, April 5
SPORTS & OUTDOORS | Take advantage of the knowledge of the REI staff when they help you
Find Your Park: Mt. Rainier National Park
, a free chat to help guide you to the outdoors.
Thursday, April 6
THEATER |
Noises Off!
kicks off another weekend of door-slamming, sardine-slinging antics at the Spokane Civic. Read our story about the production
here
.
LIVE BANDS | Avant-garde jazz experimenter and the polished pop craftsman — there are two sides to
Marco Benevento
, and you'll probably get a bit of both at The Bartlett tonight. Here's a little sample:
Friday, April 7
LIVE BANDS | This show is all about kick-ass rock 'n' roll fun. Can't go wrong with any of these bands playing at Baby Bar:
White Mystery, Fun Ladies and Nat Park & the Tunnels of Love
. Be there.
LIVE BANDS |
Life During Wartime
is a Talking Heads tribute band, but the real key to this show is local openers Super Sparkle, delivering the pop-rock goodness to kick things off for this KYRS benefit at The Big Dipper.
Saturday, April 8
WORDS | Join authors Kris Dinnison, Brie Spangler and Whitney Gardner for a reading and discussion of books celebrating the
unconventional beauties
in our society.