Patio dining season is here (depending on the day) and farmers market season in the Inland Northwest is just around the corner. To tide us all over until the months of regional bounty hit full swing, here are the latest tidbits on what's happening in, or on its way to, the local dining scene.
New places to check out now: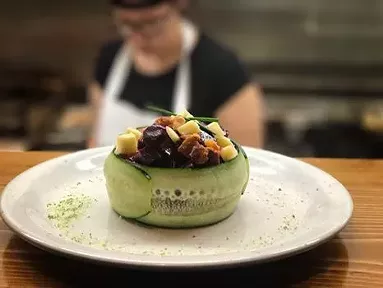 Craft & Gather

Opening earlier this week, the restaurant focused on local ingredients makes its home at the former Painted Hills Golf Course clubhouse, off of Dishman-Mica Road in Spokane Valley. Opened by two industry vets who've each worked at establishments around the country,
Craft & Gather's menu
leans toward what (apologies to all the chefs who roll their eyes at this term; sometimes you gotta keep it basic) appears to be upscale pub food, or Northwest comfort fare: entrées include several burgers, a fried chicken sandwich, ribeye with wild mushrooms, salmon with lentils, and an indulgent grilled cheese; sides and starters range from beet salad to seasonal veggies, polenta fries and steamed clams. An accompanying beer list is appropriately Northwest- and Spokane-focused, with offerings from River City, No-Li, Iron Goat, Slate Creek, Daft Badger, Orlison and more.
Craft & Gather
is now open daily, from 3-10 pm; happy hour is 3-5 pm. (Stay tuned in the coming weeks for our feature on this new spot.)

Westwood Brewing Co.

After months of renovation and restoration, the
newest brewery and taproom
to come to the little town of Rathdrum, Idaho, throws open its doors to the public this week as part of a three-part phased opening. Westwood Brewing Co. is located in a historic building built in the late 1800s that originally housed a bank (the innards of its walls revealed countless historic discoveries during construction), and most recently was home to the Westwood Inn saloon and steakhouse. While the brewery is not set to open until later this fall, and the pub-style restaurant not for another several weeks, Westwood's bar kicks off a soft opening by offering craft beer on taps, domestic bottles and cans, and spirits. Starting April 20, the bar is open daily from 6-11 pm. Stop by
this Friday or Saturday
for drink specials and a chance to win some free swag.
Restaurants and other spots on the way: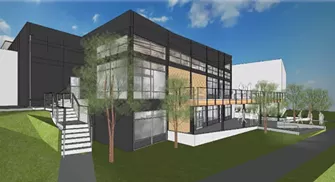 Maryhill Winery Tasting Room
Since last fall, the walls of
Inlander
HQ have often rumbled due to the massive amount of construction taking place all around us in the burgeoning Kendall Yards district. Just recently, we finally learned one of the tenants that's going in next door, between Spa Paradiso and Nectar Beer & Wine: Maryhill Winery of Goldendale, Washington. The award-winning winery — owned by a couple formerly of Spokane — plans to open
its first offsite tasting room
sometime this fall. With a spectacular view of the Spokane River from its balcony spot, and located just off the Centennial Trail, we have a feeling the tasting room will become yet another popular spot for local wine lovers.
One Tree Hard Cider House
The favorite local craft cider maker is heading to downtown Spokane hopefully sometime in June, with the opening of a
tasting room at 111 S. Madison
(just around the corner from the Fox Theater). While One Tree's Spokane Valley production center includes a tasting room, the new downtown spot brings hard cider closer to the masses, in the heart of the growing brewery and winery cluster in west downtown that also includes Iron Goat Brewing, River City Brewing, Barrister Winery, Orlison Brewing, the Steel Barrel Taproom and many more. In addition to One Tree's ciders, like the popular huckleberry and lemon basil versions, visitors will find guest taps featuring other U.S. cider makers' offerings.
Cascadia Public House

After the shuttering of two North Spokane spots earlier this year, we now know what will replace Tonicx bar and Ash Street Tacos near the Five Mile Shopping Center.
Cascadia Public House
is moving in, and plans to offer a locally focused menu of food and drinks to diners inside and on a cozy patio sporting two fire pits. Cascadia plans to feature local/regional meat and seafood, along with many vegan, vegetarian and gluten-free dishes. The kid-friendly establishment is set to open early next month, and has special celebrations planned for both Cinco de Mayo and Memorial Day Weekend.