The downside of having sky-high expectations for a concert is that you can easily be let down if a band is merely "good" or "great" and not "transcendent."
My expectations for
Son Volt
's sold-out show at the Bartlett Sunday night were definitely up there, as I've listened to pretty much everything that band leader Jay Farrar has released for the better part of three decades, starting with Uncle Tupelo's 1990 debut,
No Depression
, up through Son Volt's excellent 2017 release
Notes of Blue
. But I'd seen Son Volt a few times through the years, and while they were always good, their live shows never grabbed me the way Farrar's distinct, twang-touched voice and way with incisive lyrics do on his recorded work.
Sunday's show, though, was easily the best I've ever seen Son Volt. Maybe it was the intimacy of the venue, maybe it was Farrar and his stellar band feeling how good the new songs are, even when played next to longtime fan favorites from 20 years ago.
Whatever the case, the band was dynamic and rocking, when some past shows I've seen got mired in too many dirge-like musical excursions. There were certainly plenty of poignant moments — you don't want Farrar skipping out on his excellent ballads — but the quintet on stage was energetic and fun to watch (particularly bouncing, smiling bass player Andrew Duplantis) even if Farrar kept the between-song banter to a minimum, as his is wont.
The music spoke loud and clear, reestablishing that Son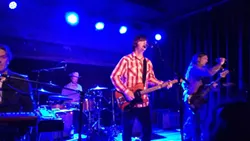 Volt is one of the bright lights of "Americana," "roots music" or "alt-country" — whatever label you want to attach to their sound that touches on folks like Hank Williams, Bob Dylan and Tin Pan Alley troubadours of the early 20th century.
The set list leaned heavy on the new album (eight of its 10 songs were performed), as well as the band's 1995 debut,
Trace
, a stone classic whose songs elicited the loudest cheers and sing-alongs of the night. The 24 songs delivered over the course of nearly two hours also touched on Farrar's solo work ("Damn Shame"), his Gob Iron side project ("Buzz & Grind") and his beloved pre-Son Volt band Uncle Tupelo ("Chickamauga" in the first encore), and closed down with a wickedly fun workout on a Velvet Underground cover ("What Goes On").
Among the new
Notes of Blue
songs, show opener "Lost Souls" and the driving "Cherokee St." proved worthy additions to the band's set list, while the back-to-back "Promise The World" and "Back Against the Wall" (which open the album in similar fashion) were most evocative of Farrar's older material.
Elsewhere, the
Trace
tracks were predictably excellent, from the hard rock of "Drown" and "Route" to the acoustic-driven "Ten Second News." "
Windfall
" opened the first encore, and I'd argue that it's hard to find a better song in the alt-country canon, let alone the Son Volt catalog.
While the players behind Farrar have changed through the years, the current lineup is excellent. Multi-instrumentalist Mark Spencer bounced between expressive organ and crying pedal-steel, while Chris Frame's slide guitar was a perfect complement to Farrar's own ragged strumming.
Together, they make Son Volt and Farrar's old-fashioned songs worth following into the future.
Sunday night's setlist:
1. Lost Souls
2. Static
3. Buzz & Grind
4. Damn Shame
5. Cherokee St.
6. The Picture
7. Dynamite
8. Tear-Stained Eye
9. Midnight
10. Sinking Down
11. Back Into Your World
12. Catching On
13. Cairo and Southern
14. Ten Second News
15. Promise The World
16. Back Against the Wall
17. Bandages & Scars
18. Driving The View
19. Route
20. Drown
21. Afterglow 61
Encore
22. Windfall
23. Chickamauga
Encore 2
24. What Goes On