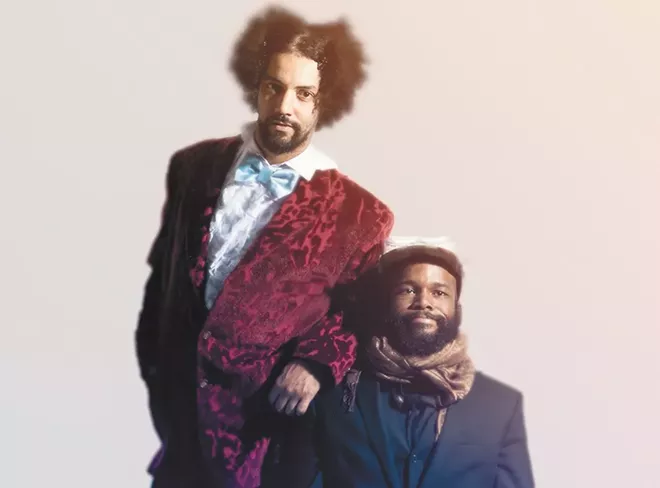 The first time I heard
The Smokes
, it was about a year after I moved to Spokane. It was in the aftermath of Windstorm 2015, and power was out at my house for a week. As a result, I was spending quality time bouncing around downtown until I had to go home. I showed up at the Big Dipper and walked in on a couple of guys decked out in colorful tuxedos, doing a garage-rock version of, if memory serves, some James Brown tune.
I was hooked. And here's a fuzzy photo I took that night:
I saw them a couple more times, which is pretty easy to do considering the duo of guitarist Himes Alexander and drummer Matt Slater seem to always be playing somewhere. That's one of the things I came to appreciate about The Smokes — they seem willing to share shows with pretty much any other band playing any style of music. And they'd make it work.
About a year ago, I wrote a
profile of The Smokes
for our Volume music fest issue, as the Spokane garage-rock two-piece was one of our "bands to watch" for 2016. Over some not-great whiskey, we talked music, politics and growing up African American in an overwhelmingly white town and part of the country.
We also talked their longtime plans for the band, and they were adamant about taking The Smokes out of Spokane and on the road. Now, it's happening, and it's not just for a tour. The guys are moving to the Twin Cities to finish a music degree (Himes) and work at a new job (Matt) and see how The Smokes' tunes go over in a bigger town. And Minneapolis/St. Paul ain't just any music town; you might have heard of some of its more famous musical exports — Prince, The Replacements, Hüsker Dü, Atmosphere, etc.
Spokane has one last chance to catch The Smokes before the move when they play a free show at
the Bartlett Friday night with Super Sparkle
, part of the
Great PNW clothing/Rainier beer party
that's going down at both the Washington Cracker Co. Building and the Bartlett.
Late last month, The Smokes played a not-so "secret show" in the basement of the Senator to record a new album. Joined by Blackwater Prophet's bass player and backed by a screen showing the 1971 blaxploitation classic
Sweet Sweetback's Baadasssss Song
, they sounded great. Maybe the best I've heard them.
They played songs old and new while the audience crowded around them. Cans of beer and bottles of wine were passed around while Alexander and Slater cracked jokes and occasionally unleashed a barbed aside ("We're not the people who lead us, right?"), a scathing commentary ("This is a song about being called a nigger in your hometown") or some love ("Everyone in this room should value themselves, because we value you").
The Smokes did some of the classic covers I've come to love hearing them do, like Sam the Sham and the Pharaohs' "Li'l Red Riding Hood." And Alexander said "I'm going to miss this place" right before the duo cheekily launched into The Animals' "We Gotta Get Out Of This Place."
I, for one, am sad to see them go, even while I'm hopeful that they'll be regular visitors.