The first time I saw Chris Cornell, he was leading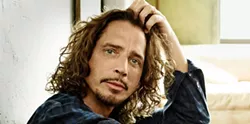 Soundgarden as an opening act for some long-forgotten headliner in a cement warehouse of a venue called the Speedway Cafe in Salt Lake City, around when the band's 1989 major-label debut,
Louder Than Love
, was released.
The last time I saw Chris Cornell, he was
on stage at Spokane's Fox Theater
performing an all-acoustic, mostly solo three-hour show that touched on every aspect of his career, from Soundgarden and Audioslave songs to solo originals and favorite covers ranging from Prince to Metallica to U2.
The thing that stood out at both those shows, and the myriad times I saw Cornell in between, was The Voice. Whether he was wailing in one of Soundgarden's Zeppelin-esque stompers or crooning some delicate ballad, Cornell's four-octave range was an undeniable instrument that always made him stand out from his rock 'n' roll peers.
That voice is silenced today as
Cornell died in Detroit last night of an apparent suicide
in the hours after a Soundgarden show. He was 52.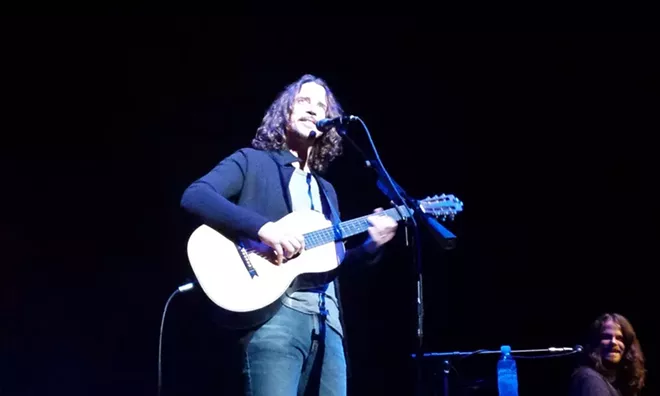 The reunion of Soundgarden was a joy to fans who saw the band blow up along with the Seattle scene in the late '80s/early '90s. The quartet was one of the brightest lights of the so-called "grunge" movement, providing a more metal-edged sound compared to Nirvana's punk approach and Pearl Jam's classic-rock vibe. At their show Wednesday night in Detroit, Cornell and the band ended with their own "Slaves and Bulldozers,"
blending in some lyrics from Led Zeppelin's "In My Time of Dying."
Soundgarden was the introduction to metal for many "alternative" fans, and the introduction to indie/alternative music for a bunch of metalheads who just loved their monstrous riffs. When the band split up after several platinum albums, Cornell worked on solo albums that reflected his love of everything from sensitive troubadour Jeff Buckley to beat master Timbaland, and joined all the non-singing Rage Against the Machine guys in Audioslave for three albums.
Through all his twists and turns, The Voice remained one of the best in modern popular music. It was on full display last summer at The Fox, and in my review of the concert I wrote, "if Wednesday's show proved anything, it's that Cornell has as much of an exciting future ahead as he has a storied history."
Sadly, I was wrong. R.I.P. Chris Cornell.