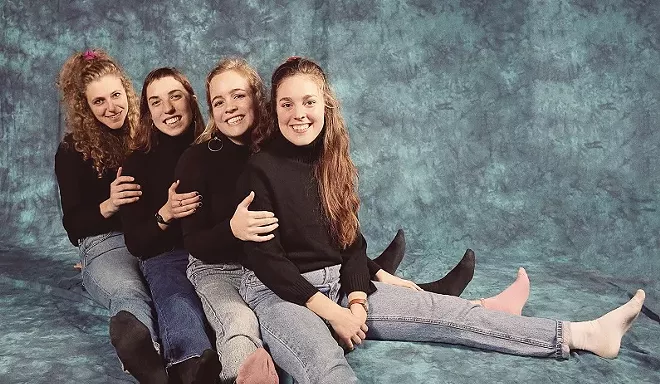 We're hitting June by the end of the week, and while we're most excited about our
Volume Music Festival
on Friday and Saturday, there's plenty to do between now and then. You can find all manner of things in our
event listings
and
Staff Picks
.
Some highlights of the week ahead:
Tuesday, May 30
COMMUNITY | Join the Humanities Washington
Think & Drink
gang at a new spot, the Magic Lantern, for a what is sure to be a vibrant discussion about whether or not humans should be able to move freely across the planet and live wherever they want. A little history, a little politics, and a lot of great exchanges of ideas.
COMMUNITY | Girls with musical chops of all levels can join in the Downtown Library's
Girls Rock Lab Jam
Session at 6 pm. It's for kids in grades 3-7, and you need to preregister to jam.
Wednesday, May 31
COMMUNITY | Grab
a Beer with Todd Mielke
, the CEO of Greater Spokane Incorporated, who's ready to hear what you have to say over a cold beverage.
Thursday, June 1
COMEDY |
Margaret Cho
is simply one of the funniest people on the planet, and seeing her is a treat every time. Tonight, she headlines Northern Quest Resort & Casino.
LIVE BANDS | Join the
Volume Kickoff Party
at the Observatory, featuring killer local artists including Mall Walk, The Dancing Plague of 1518, Empty Eyes and Local Pavlov. This show is free, and it's the last place to get a $25 pass for the weekend's festival before the price goes up to $35.
Friday, June 2
LIVE BANDS |
Volume
kicks off today! 100 bands, 10 stages, two days. Here's a taste of some of the bands:
VISUAL ARTS |
ArtFest
in Browne's Addition gets underway; it's the start of three days of visual arts and music.
VISUAL ARTS | Wow, it's
First Friday
, too! Check out some great new art in downtown Spokane as you move between music venues at Volume.
Saturday, June 3
FILM | The Garland Theater hosts a midnight screening of the
Rocky Horror Picture Show
, a treat no matter what the season. Here's a reminder of the fun:
COMMUNITY | It's opening day of the
11th Annual Lilac City Comicon
, taking place over two days at the Spokane Convention Center.