In case you weren't able to make it to the
15th annual Sasquatch! Music Festival
at the Gorge Ampitheatre, we took some notes. Here's what you did, and didn't, miss this year.
WHAT YOU MISSED:

1. The return of legendary soul man
Charles Bradley
to the stage. Bradley canceled shows last fall after being diagnosed with stomach cancer, but shared the love at the Gorge during an hour-long set in one of his first performances after treatment and recovery. Following the show, Bradley stuck around and hugged (and kissed) anyone who waited for him.
2. West Seattle two-piece Sisters, along with Porter Ray, played a "secret" set at the same time as day two headliner Twenty One Pilots.
3. So. Much. Glitter. This one could be filed under "didn't miss," because I certainly won't miss finding sparkles in every crease. And there's no end in sight.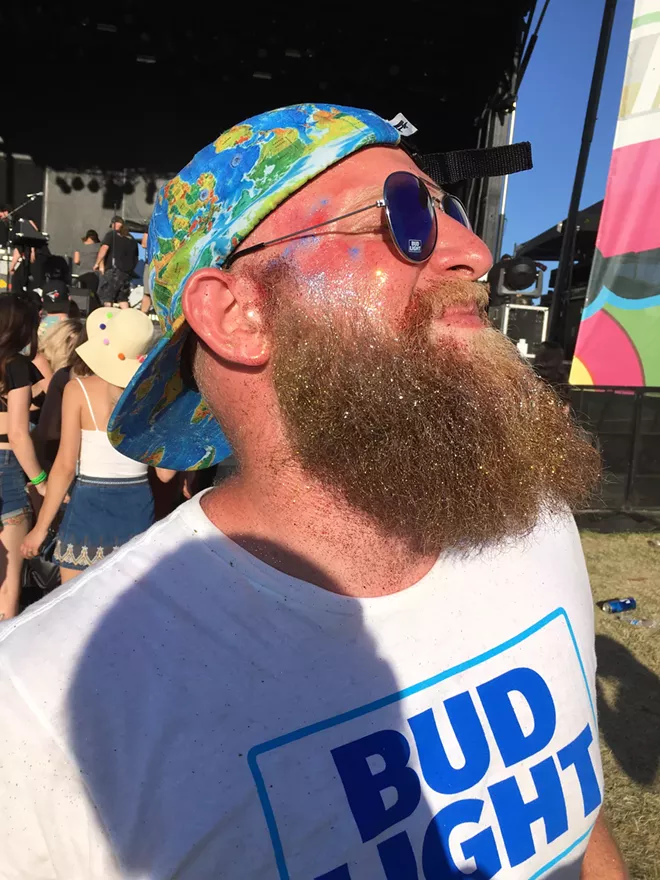 4. Hammer-Schlagen: The drinking game that requires a sturdy chunk of wood, nails, a hammer and the ability to toss it up in the air. Here's how you play: Players tap their nail into the stump, then take turns tossing the hammer up into the air, catching it and whacking the other nails into oblivion. Last nail standing wins.
5. LCD Soundsystem's James Murphy announced during the band's Friday evening set that their newest album is "
done
."
WHAT YOU DIDN'T MISS:


1.
Frank Ocean
: The R&B singer was originally billed as a headliner, but canceled that show and his appearance at the Hangout Music Festival. Ocean canceled "
due to production delays beyond his control
."
2.
Kaiydo
: The 20-year-old, up-and-coming rapper canceled at the last minute due to a "family emergency." Sam Lachow took his Saturday afternoon slot. Kaiydo, also known as Keiondre Boone, is unsigned and has
released several of his songs on SoundCloud for free
, including "Fruit Punch," which has more than 2 million plays.
3. Mac Miller was also a last-minute cancellation. Sir Mix-a-Lot took his place in the Saturday afternoon slot. Miller also canceled a set scheduled for Sunday in Minnesota. Although the rapper
has not confirmed
that this is the case,
it's suspected
that the cancellations are linked to the bombings in Manchester, England, at his girlfriend Ariana Grande's concert. Twenty-two people died as a result of the bombing.
4. You also didn't miss Chance the Rapper refer to the Sasquatch! crowd as "Seattle" more than a couple of times throughout his Sunday night set. Perhaps someone should tell the Chicago native that the the Gorge Amphitheatre is in George, Washington, about 150 miles east of Seattle.
5. With spotty cell service all weekend, it would have been understandable if festivalgoers missed the news of legendary Southern rock musician
Gregg Allman's death
. You non-festivalgoers have no excuse. Allman was one of the founding members of the Allman Brothers Band. His publicist, Ken Weinstein, says he died of
complications from liver cancer
. Allman was 69.
6. Hell, it had better be cold. So much for paying off my student loan debt.