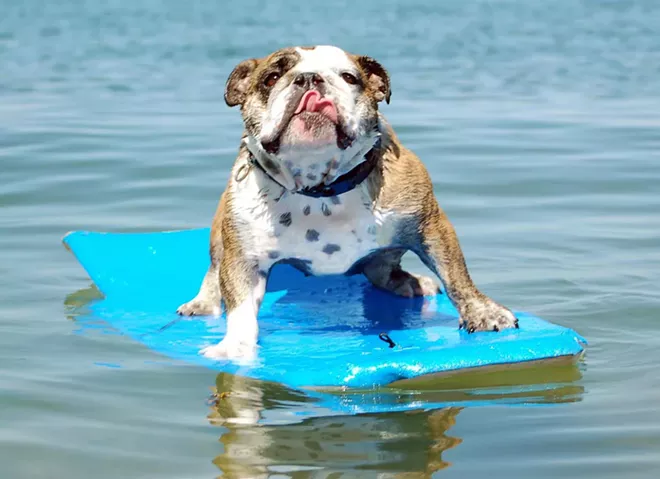 Hantavirus death
The Spokane Regional Health District announced Thursday that a Spokane County man in his 50s died from complications of hantavirus, the disease spread by deer mice excrement and saliva. "We want to acknowledge how tragic this unexpected death must be for this man's family and friends," said Dr. Bob Lutz, Spokane Regional Health District health officer in a statement. "Although the reality is this type of death is rare in our area, we need to balance it with a message of precaution."
The man is suspected to have come into contact with the virus in an Adams County barn. Health officials say precautions should be taken when cleaning or working in barns, sheds, warehouses and "summer cabins that have not been occupied."
The health district has
detailed instructions on cleaning up mice poop
. Here's the gist of it: Vacuuming is a no-no as it may make the virus airborne; to be really safe you have to open windows to air out the space for at least 30 minutes. Then don a half-face H.E.P.A.- filter air-purifying respirator, long sleeved work clothes and rubber gloves. Spray the affected area with a diluted bleach mixture, wait 30 minutes and clean up the droppings using paper towels and rubber gloves.
It sounds like a lot of work, but consider this: Hantavirus symptoms are similar to the flu—fever, muscle aches, headache and cough—and appear two to six weeks after exposure to the virus. There's no vaccine or cure for hantavirus; about one in three infected people die.
Masquerading symptoms
Doctors can be fooled by symptoms of anxiety or depression that are actually masking medical ailments. Heart arrhythmias, asthma, sleep apnea and even some types of cancer can have symptoms that mimic anxiety, resulting in ineffective treatment.
The New York Times
' Jane Brody explores the conundrum facing doctors: "The problem of missing the proper diagnosis grows out of a long-ago separation of powers within the medical profession that often limits the ability of practitioners to see the forest for the trees, as it were. Medical doctors like cardiologists or gastroenterologists are often ill-equipped to recognize and treat emotional symptoms related to a physical ailment, and psychiatrists may not consider the possibility that a patient with symptoms like palpitations, fatigue or dizziness really has a physical ailment."
Read on
to learn ways to identify true symptoms of anxiety.
In the current
InHealth
, we look at
some alternative ways
of addressing anxiety and depression.
Hot, hot, hot!

It's hot! So hot, in fact, that WSU has issued a "hot pavement advisory" for our furry companions. Here's a test to determine whether the pavement is too warm for a walk: hold the back of your hand against the pavement. If you can't maintain contact for a full 7 seconds, it is too hot for pet feet. "Pets with pad burns will typically limp or flat out refuse to walk and it takes time after the burn for the lesions to develop," said Dr. Raelynn Farnsworth, head WSU veterinary teaching hospital's Community Practice Service, in a release. "The top layer of the skin will look like it is blistering and wanting to peel off, or it might already be absent entirely. And pets with burned pads will often lick their paws incessantly which can make the problem worse." Don't forget hot metal in the bed of a pickup can also lead to paw burns. Treatment includes restricting licking—that's right: your pet will wear the collar of shame if you fail to protect his paws.
For an uplifting look at the ways animals are boosting spirits in the Inland Northwest,
go here
.