When the year-round, indoor Spokane Public Market
closed due to lagging traffic and sales
back in 2014, the city's downtown core was left with one fewer option for residents to shop from local produce and food vendors and artisan makers. The building near the corner of Second and Browne has since been razed, but the Spokane Public Market is being reborn this summer, in a new location and with a new weekly format.
Starting next Tuesday, July 11, and through the end of September, the
Spokane Public Market
will be open weekly on Tuesdays, from 4-7 pm, in the Parkade Plaza at 110 N. Howard, between Main and Riverside.
The market's rebirth has been spearheaded by a five-year resident of downtown Spokane, Arhen Resleff, who says he wanted to establish a local market for the growing number of downtown dwellers like himself.
"It's something Spokane needed downtown, and we're right downtown, so it's geared toward residents already living downtown, and new residents in the M building and the Ridpath; those are within a block of the Parkade Plaza," Resleff says.
He envisions the weekly market becoming a staple of downtown Spokane, for workers, residents and those who come from other parts of the city to shop. By picking a Tuesday night, the market doesn't overlap with other nearby farmers markets, including the Wednesday (4-8 pm) Kendall Yards Night Market, and the Spokane Farmers Market at Fifth and Browne on Wednesday and Saturday (8 am-1 pm).
After getting permission from property owners to host the market in the Plaza, Resleff recruited just under 20 vendors and artists, including Parrish & Grove florist and botanicals, Common Crumb Bakery, Ace of Spades Farm, the Fruit Lady, Local Knits and River City Brewing Co., the latter of which is the Spokane Public Market beer garden's featured local brewery for the July 11 and 18 market days.
Resleff says the already established Spokane Public Market name was essentially his for the taking; the former nonprofit that ran the indoor market didn't hold on to the name rights.
With ongoing construction to convert the old Macy's space into living units, along with the former Ridpath Hotel, Resleff hopes the revised Spokane Public Market becomes well-established in its first year, so that residents of both buildings and elsewhere downtown can rely on the Tuesday market as a regular place to shop.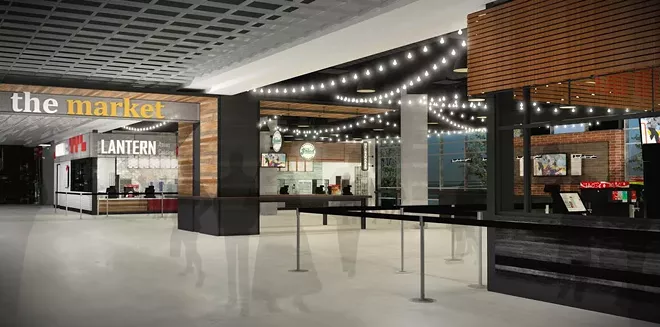 NEW FOOD OPTIONS COMING TO SPOKANE ARENA


If you've recently been to the
Spokane Arena
for a concert or sporting event, you may have noticed some construction going on.
Part of the project is to spruce up the Arena's northeast-facing entrance (towards Howard Street) is to increase "elbow room," as well as adding more weather protection for crowds entering the building. New landscaping and a green space is also part of the project.
Perhaps most exciting to Arena guests, however, are the new food options coming to the north concourse concessions area, which is being renamed "The Market."
"This entire north food and beverage area is being transformed into a hip urban neighborhood ready for guests to hang out before events. Updated cuisine offerings include craft burgers, Asian wraps and gas-fired oven pizza and a craft beer counter," describes an Arena press release.
A new taco stand called "¡Los Tacos de los Muertos!" is also set to offer a variety of fresh Mexican items, beyond tacos.
All of these ongoing summer construction projects are set to be completed by the time the Spokane Chiefs hit the ice for their home opener on Sept. 30.
These stories are also featured in this week's version of the Inlander's Entrée food newsletter. To sign up and get it delivered directly to your inbox, click here.