ON INLANDER.COM
MUSIC:
The Spokane band
The South Hill will debut their new album today
!
SPORTS:
With
pitching problems, Mariners fans may have their optimism for the season dashed
, again. In other news: sky still blue, grass still green, hope still clings eternal here in the PNW.
IN OTHER NEWS
Shake shake shake
A 5.8-magnitude earthquake in western Montana was felt in Spokane and other areas within a few hundred miles around 11:30 p.m. yesterday. (
KHQ, Spokesman-Review
)
Hot pursuit
Police in Arizona are searching for a man suspected of starting eight fires Monday and shooting at a U.S. Forest Service employee,
about 75 miles southeast of Flagstaff, the Associated Press reports
. (
U.S. News and World Report
)
Thou shalt not steal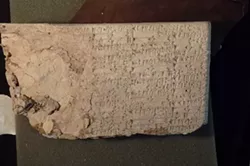 The craft and decor chain Hobby Lobby smuggled biblical artifacts looted from Iraq into the country,
labeling them as tile "samples," and now has to return the artifacts and pay $3 million, McClatchy reports
.
The Christian chain previously earned fame when it fought the Affordable Care Act mandate to provide birth control through employee health plans, taking the case to the Supreme Court, which agreed that in some cases, religious exemptions apply at for-profit chains.