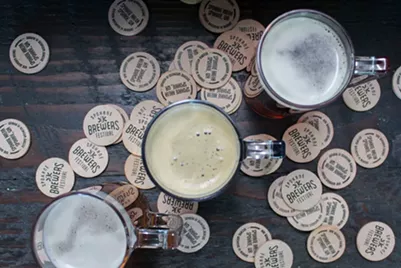 In a last-minute change before it kicks off Friday afternoon, the second annual
Spokane Brewers Festival
at the Spokane Arena on Aug. 4 and 5 will
not
be open to attendees under the age of 21.
The decision comes not from festival organizers, but from the Washington State Liquor and Cannabis Board, which ruled that the event didn't offer enough in the form of activities and attractions for those under the legal drinking age.
Though the board sped up an appeal request from the Arena, the decision stands, and according to Spokane Arena assistant manager Becca Watters, the WSLCB is taking a closer look at all other all-ages beer festivals across the state. (The Washington Beer Commission's annual
Inland NW Craft Beer Festival
in Spokane, on Sept. 22-23, is all-ages on Saturday, featuring a special kids' area, but remains 21+ only on Friday.)
"We've looked at every possible scenario to try and get kids into the festival, but every idea seemed to take the spirit out of what we're trying to do," Watters told the
Inlander
via email.
For those affected by the last-minute change, the Spokane Arena is offering ticket refunds; call the box office at 279-7455.
The arena says it'll continue to work with the WSLCB so as to allow minors at future events.
Also, to keep festival guests comfortable during the weekend's temperatures, forecast to be in the mid-90s, the Arena is setting up plenty of misters, fans and water coolers for extra hydration.
The second annual Spokane Brewers Fest features more than 30 breweries from the Inland Northwest and across Washington state, and takes place this Friday, Aug. 4, from 4-8 pm and on Saturday, Aug. 5, from 11 am-8 pm. Tickets are $25 if purchased before Thursday, Aug. 3, and are $30 at the gate. Entry includes a commemorative tasting glass and 13 tokens to redeem for 2-ounce pours. Additional tokens can be purchased on site for $1 each.