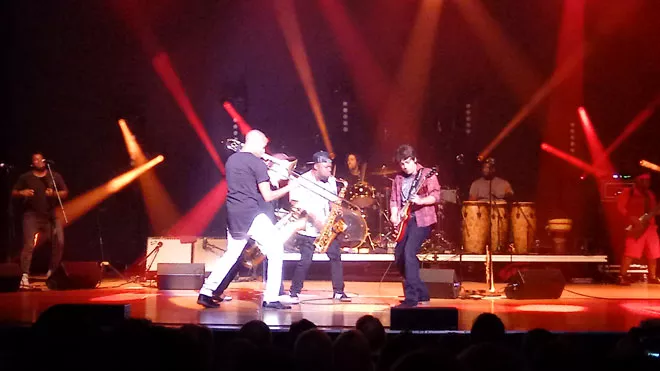 Troy Andrews, aka
Trombone Shorty
, is a top-notch talent with deep roots in the New Orleans music scene, and an impressive performer capable of slick dance moves, soulful singing and serious trombone and trumpet work.
What makes him a great bandleader to the traveling crew known as Orleans Avenue, though, is his willingness to shine the spotlight on his fellow musicians and singers on stage. Sunday night at the Fox in Spokane, Andrews was surrounded by two saxophone players, two guitarists, two percussionists, three backing singers and a bass player, and while the focus always came back to the appealing frontman, he was generous in giving his band members plenty of chance to communicate directly with the audience, too.
As a result, the group together delivered a high-energy show that got most of those in attendance on their feet within a few songs through a nice combination of rock, soul, funk and New Orleans jazz that Andrews and Co. juggled easily throughout.
Andrews kicked things off, appropriately, with a
bombastic instrumental that gave all on stage a chance to kick up a ruckus while he played his signature trombone dramatically as lights flashed behind him. Trombone Shorty shows are anything but subtle, and any unsuspecting newcomers to his music might have been surprised by the blast of sound coming from the stage.
The energy rarely flagged from there, as Andrews moved through songs like "Craziest Things" and "On Your Way Down" early on, during the latter showing off some serious dance moves reminiscent of James Brown or Prince.
During "Here Come The Girls" from his recent release
Parking Lot Symphony
, Andrews switched over to the trumpet and showcased some steps that evoked Michael Jackson, something he more directly delivered later in the show with a mean moonwalk across the stage.
Guitarist Pete Murano was an ace all night, peeling out scorching solos on song after song, and bassman Mike Bass-Bailey had an aggressive solo as well on "One Night Only." But it's unfair to single them out — everyone on stage had moments of excellence that capably illustrated why they are part of this traveling party.
Andrews introduced most songs, no matter what the style, with an allusion to his hometown. It was "We're going to take you down to Tremé" or "We're going to go down to Tipitina's in New Orleans" when he wasn't introducing tunes with "Party people, where you at tonight!?!"
They were dancing and grooving right along with Andrews as he did a killer mini-medley of James Brown tunes ("Get On Up," "Sex Machine," "I Feel Good") between his own tunes like "Give Me My Heart Back" and "It Ain't No Use."
At 31, Andrews is a young man at the peak of his powers, and clearly has respect for his elders while incorporating modern music into his sound. That should serve him well going forward, as a bandleader, songwriter and frontman.