COUGS MOVING ON UP
You might recall last month's college football preview issue, in which I wrote that if
Washington State
could somehow win all five of their season-opening home games to get to 5-0, they'd be in great shape to truly contend with Washington and Stanford for the Pac-12 North.
Well, here we are, basking in the afterglow of a
thrilling 30-27 win over USC
in which the Cougs thoroughly dominated the statistics. Cougar quarterback Luke Falk threw for more than twice the yards that Heisman hopeful Sam Darnold did for the Trojans, the Cougs held the ball for 10 minutes more than USC, and in crunch time, WSU made all the plays needed for a nationally televised home win. They're now 2-0 in the Pac-12, tied with those Westside Huskies for the North Division lead, and the
win propelled them up the rankings to No. 11
this week. Heady stuff for the Pullman gang. Up next: a game in Eugene against the rebuilding Ducks, 1-1 in conference play after beating Cal on Saturday night.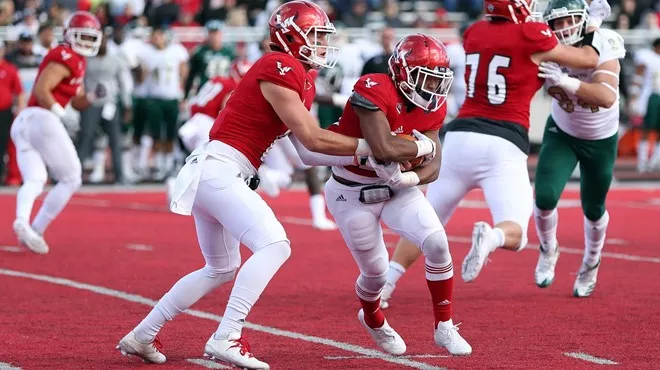 EAGLES ARE SOARING
That 0-2 start sure seems like a looong time ago, right?
Eastern Washington
won their third straight game with a
52-31 beatdown
of Sacramento State in Cheney. As per usual, the Eags were led by quarterback Gage Gubrud, who threw touchdowns to five different receivers and caught a TD pass on a trick play, too, just for giggles. All told, the Eags rung up 651 yards of total offense, the seventh highest total in school history, and one gets the feeling that the team might beat that at some point this year, now that Gubrud and the offense are cruising. Eastern is currently
ranked No. 10 in the country
in this week's FCS poll.
The win makes EWU 3-2 overall, 2-0 in the Big Sky, and it's worth noting the team picked to win the conference, North Dakota, is now 0-2 in conference play after going down to UC Davis 48-24. The Eags will try to fare better when they travel to UC Davis next Saturday.
PIRATES PUMMELED AT LINFIELD
Whitworth
traveled to McMinnville, Oregon, on Saturday to play its nemesis, Linfield College, and let's just say it didn't go well: Five turnovers led to a
38-9 loss
despite the fact that Whitworth pretty much equaled the Wildcats statistically. The Pirates will try to get back on track Saturday with a homecoming game against George Fox. If anyone can confirm that's a real school, and not just some dude Whitworth's bringing in for a homecoming thrashing, it would be appreciated.

SEAHAWKS SURVIVE
I'm going to guess there was an inordinate amount of cursing and throwing of objects among Seahawks fans when Sunday night's game against Indianapolis hit halftime with the Colts ahead 15-10. Considering that Colts are possibly one of the five worst teams in the league and were playing without their best player, quarterback Andrew Luck, said cursing and destruction was probably warranted.
Turns out the Seahawks were just priming themselves for a dramatic offensive explosion in the second half, turning in several long drives for scores and punctuated by a turnover returned for a touchdown by LB Bobby Wagner. Russell Wilson threw for nearly 300 yards and two TDs, running back Eddie Lacy (he's alive!) did solid work replacing the injured Chris Carson, and the team might have discovered yet another Beast Mode replacement in J.D. McKissic, a virtual unknown who took his first carry of the season to the house. In the end, it added up to a
46-18 romp
in Seattle. Up next is a road trip to Los Angeles to face the surprisingly competent Rams, who took down Dallas Saturday and sit at 3-1. The victory evened the Seahawks' record at 2-2.