ON INLANDER.COM
MUSIC:
Dan Nailen, who was there for his second-to-last show Sept. 22 at the Hollywood Bowl, reflects on what we lost when we lost Tom Petty:
An American classic
.
ARTS & CULTURE:
Got a great ghost story?
We want to hear it
.
NEWS:
Democrats, in the minority in both houses of Congress, are
lamenting their inability to pass restrictions on guns
in the aftermath of Sunday night's mass shooting in Las Vegas that claimed at least 59 lives, including that of the gunman. (via
New York Times
)
IN OTHER NEWS
Vegas shooting updates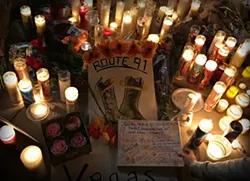 The girlfriend of Las Vegas gunman Stephen Paddock returned to the U.S. from the Philippines and is
expected to be questioned by authorities
to find out what she knows about his preparations and motivations for the mass shooting. (
New York Times
)
• President Trump visits Las Vegas today in his role as "Consoler-in-Chief,"
a trip that will test his emotional depth
— or lack thereof. (CNN)
• The definition of "fake news", debunked: False ISIS connections, nonexistent victims
and other misinformation
in the wake of the Las Vegas shooting. (
New York Times
)
•
Fact-checking a fraudulent gun-safety chart
and misleading data on spending by the National Rifle Association. (
New York Times
)
• It was unquestionably terrorizing, if not specifically the actions of a "terrorist," at least according to the president:
What to call the Las Vegas shooting?
(
New York Times
)
• Washington Gov. Jay Inslee
called for a statewide ban
on devices that enable semiautomatic rifles to fire faster and become fully automatic. (
Spokesman-Review
)
¡No comprende, Señor Trump!
The president's trip to Puerto Rico yesterday was a test of his ability to lead:
He failed — hugely
— writes CNN's Chris Cillizza.
• In an
interview with Fox News
last night, Trump vowed to "wipe out" Puerto Rico's $74 billion debt to Wall Street. The
New York Times
asks:
Can he actually do that?

• There will be
no U.S. bailout for Puerto Rico's debt
, Mick Mulvaney, director of the White House budget office, asserted this morning in response to Trump's claims. (
Bloomberg
)
Fox, meet henhouse
Scott Pruitt, head of the Environmental Protection Agency, has spent the past several months
meeting with top corporate executives and lobbyists from all the major economic sectors that he is charged to regulate
, and almost no meetings with environmental groups or consumer or public health advocates, and has made frequent, government-funded trips to his home state of Oklahoma. (
New York Times
)
• After Pruitt met with industry officials, he
made decisions that benefited those industries
. (
Washington Post
)
• Pruitt's frequent flights at government expense
have cost American taxpayers more than $58,000
. (
Washington Post
)

Zinke under investigation
Interior Secretary Ryan Zinke is
under investigation for his use of taxpayer-funded charter planes
. Zinke — who dismissed the claims as
"a little B.S."
— is one of several Cabinet members to face questions over his expensive travel, along with former Health and Human Services Secretary Tom Price, who resigned Friday. (
Slate, Politico
)
Not on the same page
Defense Secretary James Mattis
has openly split with President Trump
on whether to uphold the U.S. nuclear deal with Iran, becoming the second member of the president's National Security Council to contradict him ahead of a decision regarding the deal. (
New York Times
)
Hypocrisy in the House
Tim Murphy, a longtime Republican congressman from Pennsylvania and a vocal opponent of abortion,
asked a woman with whom he was having an affair to undergo an abortion
, reports the
New York Times
.
• The Inland Northwest's two U.S. House members, Washington's Cathy McMorris Rodgers and Idaho's Raúl Labrador,
voted for the "Pain-Capable Unborn Child Protection Act,"
a bill that would ban abortions more than 20 weeks after conception. (Spokane Public Radio)
Not-so-stiff upper lip
British Prime Minister Theresa May
suffered through a cringe-inducing speech
before members of the Conservative Party this morning, contending with a coughing fit, a prankster, and letters falling off the party's slogan on the wall behind her. (
New York Times
)
Far from a Trojan hero
Washington State University police
continue to investigate
a USC football player, identified as
Liam Jimmons
, for a potential assault charge after the 6-foot-5, 280-pound freshman defensive end knocked down a Washington State fan following the Cougars' nationally televised 30-27 victory on Friday night. (
Spokesman-Review
)
Early blizzard strikes Montana
Heavy snow —
as much as 30 inches in some places
— fell across Montana yesterday, knocking out power to tens of thousands of people. (The Weather Channel)