The
Inlander
's newspaper boxes dotting the Inland
Northwest are remarkably resilient things, but they're no match for a car. When one particularly sidewalk-friendly driver in Hillyard took out one of our boxes, the bright-red victim ended up stashed in a dark corner of Inlander Central Command. Whispers of a trip to the dump didn't bode well.
Then some enterprising, talented
Inlander
staffers got involved, turning a newspaper tragedy into an artistic homage to journalism. And the results of their labor, a sculpture called "The Truth Has Wings," has been accepted at
Terrain 10
. We couldn't be more proud.
"I couldn't bring myself to trash it; it looked too cool, and had a story behind it," says Justin Hynes, the
Inlander
's distribution manager, who worked on the project along with graphic designers Alissia Blackwood and Jessie Hynes and production manager Wayne Hunt:
"I knew I wanted to make it into an art piece of sorts,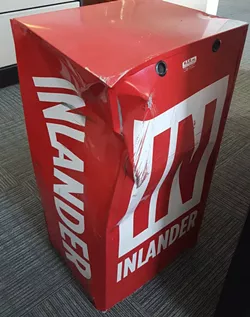 and I knew what I wanted it to look like, sitting like it was at the exact point of impact with papers flying out like a tornado, but I had no idea how to accomplish that, or really even a reason to make it."
After stripping the damaged box for reusable parts, the group went to work with chicken wire, old newspapers, about a half-gallon of Modge Podge (a water-resistant glue they ordered off Amazon), and "about a million hot glue sticks," according to Blackwood.
Justin Hynes liked the idea of the box set at an angle that showed how it looked after the car had made its rude acquaintance, and the idea of flying newspapers turning into soaring birds resonated with the group.
"With all the terrible fake news, we decided to make it a project about how we do our best to report the truth," Jessie Hynes says.
We think they did a bang-up job (pun fully intended). You can see "The Truth Has Wings" among the many amazing artists on display at
Terrain 10
this Thursday and Friday night, at the Jensen-Byrd Building (131 E. Main) in the University District.
Here are a few different views of "The Truth Has Wings:"
Another view:
A bird before it becomes part of the piece: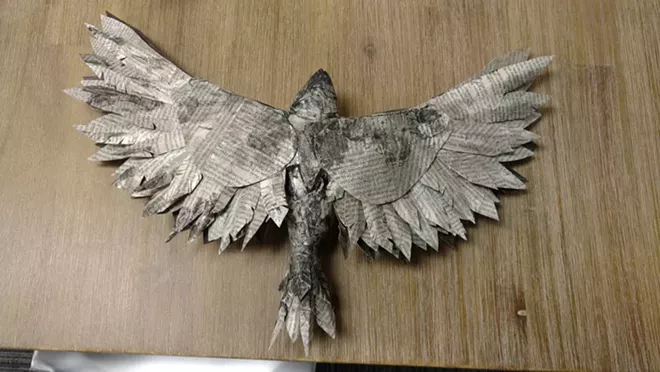 Three-quarters of the creative team, celebrating getting into Terrain 10: