ON INLANDER.COM
NEWS:
Spokane's
district court judges are ready to pick up extra work
after the retirement of Judge Gregory Tripp, in order to meet budget cuts requested by the county commissioners. The move would in part prevent someone being appointed to the seat, leaving it up for an open election next year.
NEWS:
While the city works to reduce pollution entering the Spokane River, Spokane Mayor David Condon is
asking the Environmental Protection Agency to rethink strict PCB guidelines
put in place after much of the current planning for city improvements was done.
NEWS:
Emails — from real people — mostly
have encouraged Spokane Public Schools to adopt a sex ed curriculum
developed by Planned Parenthood.

IN OTHER NEWS
Car hits several people in North Spokane, killing one

The
Spokesman-Review
's Jonathan Glover reports that a
a silver sedan crashed into a group of pedestrians
, killing one and injuring two others early Sunday morning outside of a Subway near the Safeway on North Market Street.
Clean Power Plan? You're fired!
In other EPA news, agency head Scott Pruitt announced plans to
roll back the Obama-era Clean Power Plan
, which limits greenhouse gas emissions from power plants and is meant to push companies away from using coal, the
New York Times
reports.
Columbia River salmon numbers so low, some survey nets come up empty
"We have never hauled that net through the water looking for salmon or forage fish and not gotten a single salmon. Three times we pulled that net up, and there was not a thing in it. We looked at each other, like, 'This is really different than anything we have ever seen,'"
David Huff, with NOAA Fisheries, tells
the
Seattle Times
' Linda Mapes.
DACA: Deal or no deal?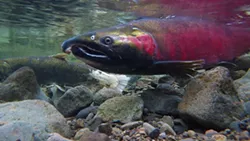 The
Washington Post
reports that the
Trump administration has made several demands in immigration policy negotiations
to keep Deferred Action for Childhood Arrivals recipients in the country, including building a wall on the Mexican border and cracking down on "sanctuary cities" by reducing the amount of federal grant money they receive.