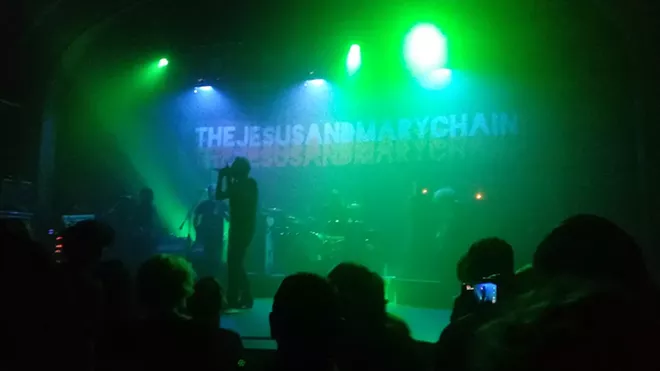 It's nice that some things in life never change too much, and so it goes with the Jesus and Mary Chain and the band's Scottish brothers out front, Jim and William Reid.
Actually, "out front" is exactly accurate, as guitarist William prefers to lurk in back, surrounded by his amps, while he churns out buzzing parts that touch on everything from surf-rock riffs to garage-rock feedback to the droning, Wall of Sound, shoegaze-y noise this band helped pioneer in the '80s.
Out front is brother Jim, handling lead vocals on songs new and old while contorting his body into various states of what looks like painful Pilates poses while singing about being "a rock and roll amputation" (show-opener "Amputation" from the band's 2017 release
Damage and Joy
) or letting the audience know he wants to die like Jesus Christ and JFK ("Reverence," the last song of the main set before the band returned for two encores).
The rest of the group on stage — masterful drummer Brian Young (formerly of Fountains of Wayne), bassist Mark Crozer and guitarist Scott Von Ryper — stayed in their assigned spots. Just like when they first came along with the 1985 classic
Psychocandy
,
the Jesus and Mary Chain
isn't big on stage movement, preferring to let smoky effects, floods of lights and a monstrous sound do the work in getting their songs over to the audience.
Happily, another thing that hasn't changed is Jim Reid's voice — he sounded great throughout. He rarely chatted with the audience, save for some thanks at show's end and encouragement that if the crowd just made a wee bit of noise, the band would come back for more songs.
That was a good thing, because the two encores held some of the show's best moments, from the lush "Just Like Honey" to the feedback-frenzied "In A Hole" to the show-ending double shot of the bass-led "Sidewalking" and driving finale of "I Hate Rock 'n' Roll."
There was plenty to love before the encores, of course, for an audience that leaned toward middle age; clearly many on hand had been fans since the band's inception and could appreciate songs from 1985's
Psychocandy
and 1987's
Darklands
(the title track, as well as "Cherry Came Too" and "April Skies"). The six songs from
Damage and Joy
, the band's first new album in 19 years, fit in remarkably well with older tracks, especially "Amputation," "Black and Blues," "Mood Rider" and the borderline-poppy "All Things Pass."
After nearly two hours and about 20 songs, I certainly had a new appreciation for the Jesus and Mary Chain's music. Back when they first came along, they struck me as so drone-y and dark, but there's no denying the hooks poking through even those old "noisy" songs. And getting to see a legendary band in a venue as nice as the Bing was a treat; here's hoping the Bartlett gang who made it happen keep booking shows there, in addition to their space (they have the
Victor Wooten Trio
coming to the Bing in January.)