ON INLANDER.COM
NEWS:
After the
Inlander
published a story saying Spokane's Center for Justice isn't supporting a ballot initiative aiming to protect from an oil-train catastrophe, executive director Rick Eichstaedt said he
voted for the ballot measure anyway
.
SPORTS:
Meet WSU quarterback Luke Falk, the
Pac-12's all-time passing leader
.
IN OTHER NEWS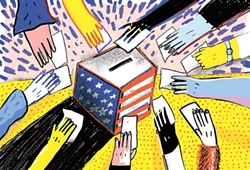 Go vote!
It's Election Day, everyone. There are important races for city council, judge and the school board. Chances are, you
haven't cast your ballot yet
(only about 22 percent of ballots in Spokane have been turned in so far), so go ahead and do that today (polls close at 8 pm) before it's too late. (
Spokesman-Review
)
Check out the
Inlander's
election coverage here
.
No special treatment

Eastern Washington quarterback Gage Gubrud and linebacker Kirk Calhoun are facing a charge of obstruction after they tried to p
revent police from arresting their friend
Saturday night in Cheney. Neither will play Saturday when the Eagles visit North Dakota. (KREM)
Child abuse in the Valley
A 22-year-old Spokane Valley man named Brandon Oquendo told deputies that he hit a baby only 21 months old in the back of the head because she
passed in front of him while he played Xbox
. The baby was sent to Providence Sacred Heart Medical Center with a collapsed lung and bleeding brain. (
Spokesman-Review
)
Texas killer's violent past
More details are emerging about the gunman who killed 26 people in a Texas church. In the years before the massacre, Devin Kelley beat his wife, cracked his toddler stepson's skull, abused his dog and
was kicked out of the Air Force
. Still, he should never have been able to buy the rifle he used in the shooting.
The Air Force admitted yesterday that it
failed to enter his domestic violence history
into a database that would have blocked Kelley from buying the gun. President Trump says tougher gun laws would not have stopped the shooting; when asked if he would entertain "extreme vetting" on guns,
Trump got annoyed
. (
New York Times, Washington Post)