Ed Pace thought it would be a close race.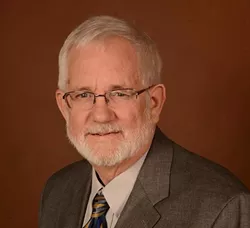 He knew his opponent Ben Wick, a former Spokane Valley City Councilman, had a chance. But even if Pace lost his race for Spokane Valley City Council, he thought the two councilmen who share many of his constitutionalist, libertarian political views — Caleb Collier and Mike Munch — were safe to carry the torch.
When the results came in just after 8 pm last night, he was shocked. All three of them lost, and it wasn't even close.
"I was surprised that all of us got beat so badly," Pace says.
Spokane Valley residents sent a message that they wanted
change
in their city council last night. And
in a shift from previous Valley elections
, this time it was the
more moderate candidates
who
fared
better than the candidates further to the right.
Munch received just 43 percent of the vote in a loss to Linda (Hatcher) Thompson, director of the Greater Spokane Substance Abuse Council. Brandi Peetz, a member of the Spokane County Sheriff's Citizen's Advisory Board, racked up 58 percent of the vote against Collier. And Pace, who
recruited candidates to run against him last year
, lost to Wick by a 59-41 margin, according to the
newest results,
released Wednesday afternoon.
Even Mayor Rod Higgins finds himself in a
dogfight
. His race against challenger Chris Jackson is currently
too close to call
; Jackson held a narrow 46-vote lead after Tuesday night but Wednesday's latest vote count showed Higgins with a 29-vote edge. Pam Haley, who describes herself as a moderate, is the only incumbent who came out of Tuesday night feeling confident in a win, taking 61 percent of the vote against challenger Angie Beem.
Pace says he sees a shift to the left, both locally and nationally, as a major factor.
"The three conservative candidates in the city of Spokane lost pretty bad, and so did the most conservative candidates here in the Valley — we lost pretty bad," he says.
There were other factors, of course. Pace said people may have been influenced by ads stating the council wanted to raise a 6 percent utility tax, even though Pace maintains that was never the case.
"They used something we talked about in the past, but never brought to a vote, to make a false claim," Pace says.
But another a major factor was Pace's proposal for a
"parental rights"
ordinance, which saw support from Munch and Collier. It would have restricted schools and health agencies from making decisions about whether or not students can come to school during an outbreak if that student hasn't been vaccinated. It would also have restricted schools from making decisions on curricula and gender-neutral bathrooms. Pace says the challengers spun that away from being about parental
rights,
and made it about bringing unvaccinated kids to school to make kids sick, a characterization that Pace sees as a misrepresentation.
The race between Pace and Wick, in a way, was symbolic of the shift in power.
"It wasn't so much Ben Wick running against me as it was all of
them
running against City Council," Pace says.
The word of Sheriff Ozzie Knezovich seemed to carry plenty of weight, as well. Knezovich endorsed all three challengers who ended up unexpectedly beating the incumbents handily: Wick,
Peetz
and Thompson.
"I think the sheriff's endorsement was critical," Thompson tells the
Inlander
.
But more than that, Thompson says Valley voters sent a message that they wanted a more transparent City Council that would truly listen to the needs of constituents — and not get off track with things they can't control, like vaccinations.
"I think that folks want the City Council to focus on City Council business," Thompson says.