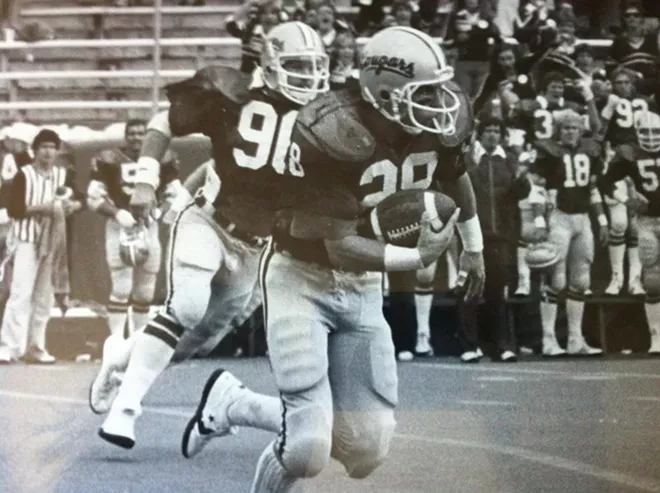 When Paul Sorensen hit an opponent on the football field, he delivered a powerful blow.
A Cougar for just two seasons after transferring from a Northern California junior college, he made an outsized impact as an All-America free safety who packed a wallop. A team leader and senior co-captain, Sorensen was far from one-dimensional; twice an All-Pac-10 All-Academic pick, he also intercepted four passes for a 1981 team that represented Washington State in a bowl game or the first time in a half-century, and only the third time ever.
Selected by Cincinnati in the fifth round of the 1982 NFL Draft (one of 10 players from that 1981 Cougars team to be drafted from 1982-86), he spent a season with the Bengals, another with the 49ers, and played in the USFL. You might know him better as a color commentator and analyst on Eastern Washington football radio broadcasts for the past 14 years, and as a color commentator on WSU radio broadcasts from 1985-98; during that 14-season span, he called some of the most memorable games in Cougars history.
In September, Sorensen
was inducted into the WSU Athletics Hall of Fame
. He answered questions we had regarding this season's Cougars defense ahead of Saturday's Apple Cup:
Q: It's no surprise that Mike Leach's Air Raid offense has held up its end of the bargain this season; what's really set this team apart is its success on defense. As a former Cougars safety, what's responsible for WSU's defensive breakthrough?
A: WSU has recruited better athletes on the defensive side of the ball, and then done a great job coaching them up, led by
third-year coordinator Alex Grinch
, being mentioned in the same breath as (Clemson defensive coordinator) Brent Venables and (Miami defensive coordinator) Manny Diaz as one of the top three defensive coordinators in the land.
WSU's 'Speed D"
is very aggressive, fast and smart, and very well-coached. The Cougs are great at taking away the top two or three favorite plays a team likes to run, so you have to beat them doing something outside your comfort zone. The defense is second in the country with 94 tackles for loss, third with 27 forced turnovers, and eighth with 35 sacks.
This is the best WSU defense since the
Palouse Posse
in the early '90s and/or the 2003 Holiday Bowl defense
that beat a Texas team
led by Vince Young.
Q: To what extent is the defense's success attributable to schemes and coaching, as opposed to the talent and ability of the players carrying out those schemes?
A: Talent will always rule when it comes to success on any side of the football. WSU now has the talent under Mike Leach. The Cougar defense is very fast and strong, reasonably young, and has the coaching staff who can put together game plans and schemes to stop a running back like Stanford's Bryce Love, who was leading the nation in rushing and an early top-five Heisman Trophy candidate: he was held to
his worst rushing total of the season in Pullman
— 16 carries, 69 yards, one TD— in the 24-21 Cougar victory (on Nov. 4).
WSU is No. 2 in the country defensively on third-down conversion at .25 percent, behind only Michigan, which leads the nation at .247 percent. The Cougs have defeated ranked teams this year in USC (then No. 5), Boise State (No. 25), Stanford (No. 18) and possibly No. 15 UW in the Apple Cup. Championship teams are usually led by an outstanding defense and WSU has an elite defensive unit; hence the success.
Q: What effect can a truly exceptional player, an impact player — this season, Hercules Mata'afa — have on a defensive unit? Was there a standout player who had a comparable impact on either of the Cougars teams you played on?
A: Hercules Mata'afa is a semifinalist for the Walter Camp Foundation Player of the year award. He will be the Pac-12 Defensive Player of the Year, with 9.5 sacks (No. 3 in the Pac-12, No. 9 in the nation) and 21.5 tackles for loss, No. 1 in Pac-12 and third in the nation) with a regular-season game to go. Mata'afa has recorded multiple tackles for loss in eight out of the 11 games he has played in 2017.
Back in 1981, we led the nation in pass defense. WSU only gave up 114 yards a game that season and forced 22 turnovers overall. We had a great team that played very well together with no superstars, just a bunch of dudes that played well together as a unit.
Also,
Paul Sorensen reflects on the second of his his two Apple Cup experiences in 1981:
"It was vicious, hard-hitting, very intense and exceptionally loud."