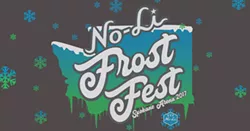 We're in the final hours to purchase tickets to No-Li Brewhouse's FrostFest on December 9.
The annual event is centered around the release of 12 speciality beers that include five barrel-aged beers, three hazy ales and variants of No-Li staples.
This year, FrostFest is moving from the brewery to the Spokane Arena concourse. With the added space, No-Li has turned the festival into a full-fledged "winter carnival" featuring ice carving, fire dancing, a lumber jill and other performers. The concourse will be split into four sections, with each entertainment theme pairing with the beers on tap.
For $30 you get a t-shirt, tasting glass and five four-ounce pours. An additional $10 will land you a ticket to the Spokane Chiefs vs. Seattle Thunderbirds hockey game taking place after FrostFest. Ticket sales end Tuesday at midnight and are available through TicketsWest.
A portion of the ticket proceeds go to benefit the Illuminating Courage monument — a Washington State Fallen Heroes memorial for the region's military members killed during service.