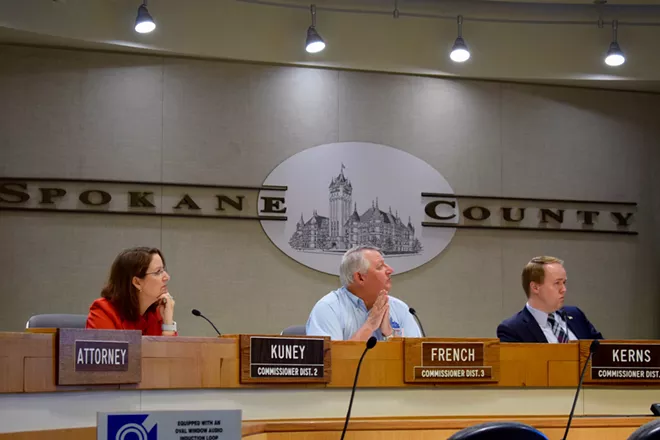 For months, Spokane County officials have warned citizens about a nearly $10 million budget shortfall. They've warned about potential cuts to county services. They raised the possibility of tax increases.
In July, Spokane County Commissioners decided to
send a property tax increase to voters
. A month later, they decided
to not send the property tax increase to voters
after all, saying residents will already see a tax increase from the state budget. They directed county departments to cut 7 percent of their budgets and present those cuts to county commissioners in hearings this fall. Sheriff
Ozzie Knezovich
and
County Prosecutor Larry Haskell
warned that those cuts would negatively impact public safety.
But Monday, commissioners voted 2-1 to approve a $738.2 million budget that avoids those cuts to public safety, without increasing taxes to county residents (though they may increase due to property values increasing).
"We tried to put together a budget that would get us through 2018 with a minimal impact on our taxpayers," Commissioner Al French said during the meeting. "And I think this budget does that."
To help do that, the county decided to use millions of dollars in road funds to make up the deficit. Commissioner Josh Kerns voted against that move, and he was the "no" vote on the budget last night for the same reason. He calls it a "gimmick" that won't solve longterm budget issues.
"Eventually we gotta quit kicking that can down the road," Kerns says.
Kerns tells the
Inlander
that instead of approving the so-called road shift, commissioners should have asked county departments to cut more than the 7 percent that commissioners initially asked from departments.
"They were not asked, "Can we do eight (percent), can you do 10, can you do 12?'" Kerns says. "We need to push the departments further to see what efficiencies are really there."
Kerns said commissioners gave departments the opportunity to present opportunities for reduced spending, but he was told there wasn't enough time to pursue further cuts. He recommended looking into outsourcing things like Human Resources, accounts payable or Information Technology.
"There are companies out there that specialize in this," Kerns says. "We need to explore those. Unfortunately we didn't."
French, during the meeting, said he was under the impression that when he and Kerns decided to not ask for a property tax increase, that "we would tighten our belts, we would continue to look for ways to find economies and we would use the (road) shift for one more year so that we would not be in a position to have reduced services and create hardships on our taxpayers for 2018."
"That was a unanimous decision," French says.
Kerns, for his part, says the shift was discussed but he never made any promises.
Mary Kuney, who was appointed to the commission this fall, said it is important that the county get to work on the 2019 budget earlier, a point where French and Kerns agree.
"I believe we need to start on next year's budget in January, and not wait until fall," she said.
Haskell, Spokane County prosecutor, tells the
Inlander
he is "very happy" that the budget provides the same level of services for his office.
"What they had been talking about earlier was the potential for some real cuts with employees, and they elected not to do that," Haskell says.
French said Monday that the budget helps the county to maintain quality of life for county residents, which he noted is important when advocating for Spokane as a good community to live, work and play. It was important, he said, to not cut programs like SCOPE, the sheriff offices community policing volunteer program, and Spokane County's
WSU Extension program
.
"It's much more than just a race to the bottom in a budget process," French says. "It's about making sure we provide quality services to everybody in this community."