What some may see as old, worn out or garbage, Spokane couple Michael Rideout and Kayla Cartelli see as opportunity.
The two use every bit they can salvage from retired fire hoses to turn into handmade products. Generally, fire departments either auction off or throw away old fire hoses no longer fit for service. Rideout and Cartelli have started
American Fire Co.
with the goal of finding creative ways to recycle that would-be trash into treasure.
The couple's business serves as a great example of finding uses for items that would otherwise end up in a landfill. Other creative recycling tips, ideas and examples can be seen in
the Inlander's Green Issue.
Since setting up shop two years ago, more than 3,000 can holders, 84 decorative flags and many other products made from fire hoses have been sold online to people across 49 states and five countries. In other words, business is booming.
"Instead of it [fire hoses] sitting in a dump, we're giving it new life," Cartelli says. "It's a different medium. It's a form of art. It's just a different way to make something pretty."
The idea for the business came to Rideout while serving as a volunteer firefighter. While living at the station two years ago, he saw an opportunity for an artistic endeavor.
"We had this big blank space on the wall," Rideout says, "and I'd seen someone on Facebook make a flag out of firehose. And I was like — you know what, that would be sweet to have."
People were so impressed with Rideout's craftsmanship that he started getting requests for more and more flags. Soon Rideout's girlfriend Cartelli was brought on board.
The two buy their hoses from auctions or from fire departments directly. Most recently they purchased more than 100 hoses from a fire department in Wilson Creek. On average, a fire hose will last anywhere from 10-15 years. Prices for retired fire hoses can vary anywhere from $15 to $100 for a single hose.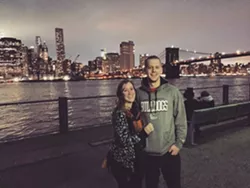 Over time, the the couple accumulated so many fire hoses — many in unusable colors for flags — they started brainstorming what to do with them all. So their hobby naturally progressed into a business. The two soon designed other products to be made from the hoses, such as coasters, key chains and flask holders.
"So it was definitely not my intention to buy nine pallets of fire hoses," Cartelli say. "It was not obviously our plan to start a business. But when it kind of happens, you just gotta make the decision to go for it or not, and we just went for it."
American Fire Co. opened up for shop in September 2016 on
Etsy
. At any one time there are 15-20 fire hoses in their home. But in storage, there's anywhere from 500-600 hoses. Each hose is 50 feet long and can be used to make 80 can holders.
On top of working full-time jobs, the two spend an average of 40 hours a week on their business. While some of their friends may think it's unusual to live that way, Cartelli says they wouldn't have it any other way.
"I think some of them think we're crazy,"
Cartelli says, "but they also don't expect anything less from us. We're always running around. We don't know how to relax. We always have to be doing something."
Currently the couple is building a two-story garage in their backyard. They plan to move all of their production out of their basement sometime this September.
Last March, American Fire Co. launched their own website. Their products can be purchased there, or on Etsy and
Amazon Handmade
.