This week, our cover package focuses on all the international markets across the Spokane area, where you can pick up all sorts of cool, rare items.
After the cover was photographed, our art director
let
me have a few of these unusual looking yellow peppers from De Leon Foods in Spokane. Later, I sliced them open, thinking it may have been just, say, a tiny bell pepper. It wasn't.
Instead of tiny white seeds, this pepper has larger, black round seeds. It's smaller, maybe the size of a lime. And it's pretty darn spicy.
It was a
manzano
pepper. It's a South American pepper that's common in Mexico but rare in the United States. Think of the
manzano
as a hybrid between a bell pepper and a habanero. Sweet, fruity, with thicker walls like a bell pepper. Hot as hell. Almost as spicy as a habanero.
In other words: perfect for a spicy spring salsa. Here's what I made the other day. I based it largely on this recipe, from
menuofmusings.com
, but kicked up the spice level even higher and mixed in some chopped peppers at the end to give it a pleasing texture and an interesting color.
The best part of this salsa is that, while it's very hot (about four out of five stars on the universal Linnie's Thai Cuisine scale of hotness) it doesn't sucker-punch you in the face right out of the gate with its hotness.
Instead, it eases you into the heat. It lets you taste how all the flavors play together, with a bit of sweetness, before building to a spicy crescendo. Perfect for chip dipping, and not too shabby for tacos either. It tastes even better the next day.
PRETTY DARN SPICY MANZANO PEPPER SALSA
INGREDIENTS:
4 Roma tomatoes
• 4 and a half
manzano
peppers (3 and a half if you're a cowardly child too afraid the heat of a
real
salsa)
• 5 large garlic cloves (you can use more if you desire — no recipe in history has ever had too much garlic.)
• 1/3 cup water
• 1 tablespoon olive oil, plus a splash more for later
• 1 tablespoon salt
• 1 fresh jalapeño, diced
• 1 cup
of
chopped onion
• 1 fresh red bell pepper, diced.
• Oregano, at your whim
• Fresh cilantro (or parsley if for some reason you don't like the mouthwatering taste of soap.)
1. Heat up a grill pan or skillet on medium-high and start cooking the whole Roma tomatoes. Using a pair of tongs turn them around until each side gets a nice browned/blackened finish. Plop them in the blender for storage until you're ready to blend.
2. Cut the
manzano
peppers in half, removing the ribs, seeds
and
stem. You're working with some very spicy peppers, so keep that in mind.
3. Place four out of the peppers on the grill pan or skillet. Do the same thing you did with the Roma tomatoes, turning with the tongs until both sides seem decently blistered.
4. Now you're gonna add the garlic cloves, the diced onion, and the water to the Roma tomatoes in the blender. If you can fit them, add the grilled
manzano
peppers too. But because my blender was a bit small, I blended everything else together first, resulting in a
puce
-shaded slurry. Then I added the peppers and blended those too.
5. Heat up your tablespoon of olive oil in a saucepan, then dump your sauce out into the saucepan. Add your tablespoon of salt, bring it to a boil and then downshift the heat to allow the dish to simmer. You'll want to simmer for a bit — this salsa can be a bit runny.
6. While your sauce is simmering, you're going to start working on making the dish a little more interesting. Seed and dice the remaining half of the
manzano
pepper.
7. Heat up a smallish skillet with a splash of olive oil and then dump the diced
manzano
pepper, the diced jalapeño and the bell pepper in the skillet. Sauté until you're like,
ooh, that looks good.
8. Add the jalapeño mixture in the skillet. Stir.
9. Remove from the heat. Let cool. Add a bit of cilantro or parsley if you're into that. (No biggie if you're not.)
And you're done! You're ready to let your friends and coworkers sample the salsa and tell you, "The flavors are great, but it's a little too spicy for me."
Wimps, all of them.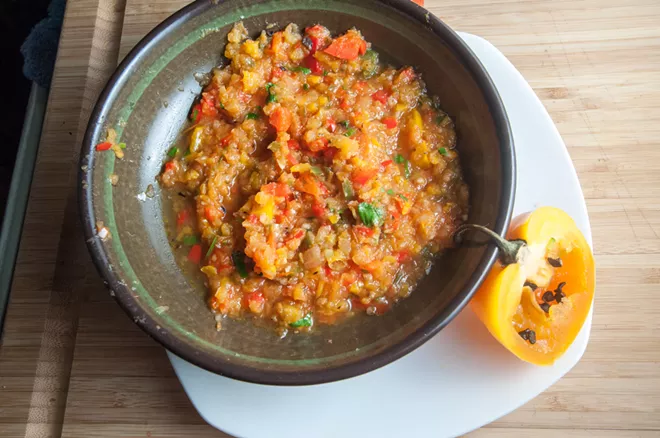 UPDATE: I put 'em on Huevos Rancheros and they were fantastic.