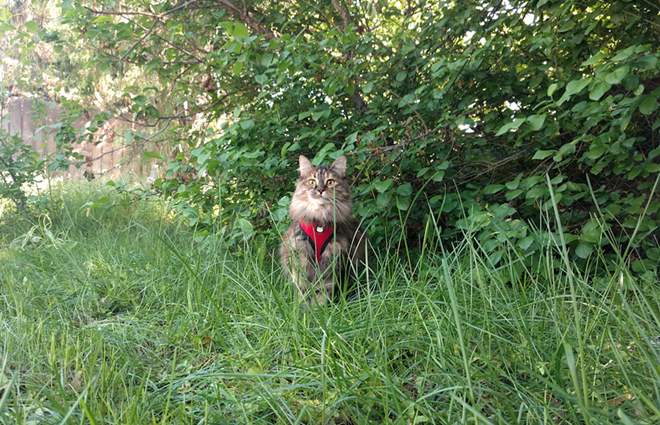 Like many workplaces, we're an office full of animal lovers. So we're super excited to be announcing the
Inlander's first-ever Pets Issue, on stands June 21.
It'll be filled with fun features on local animals and animal experts, along with some newsworthy stories about the furry (or scaly, or feathery) companions who bring us so much joy.
We'll also be featuring three soon-to-be-famous pets from the local community! Seriously, though, what better chance is there to kickstart your kitty's path to #catsofinstagram fame than now?!
Due to some last minute planning on our part, we are running a pretty quick entry timeline for this contest, with a cutoff of next
Thursday, June 7, at midnight
. There are several ways you can send us a picture and tell us a little bit about you and your best bud. We'll explain that below.
Inlander
editors will choose
three winners for first through third place
. For the honor of letting us share your sweet pal's photo and story in the Pets Issue, we'll be awarding prizes to each place, worth $50, $25 and $15, respectively. The contest is open to all types of pets, not just dogs and cats, so send us your unusual friends, too; farm animals, reptiles, birds, rodents and more.
Here's what we need from you, and how to submit:
Send us a photo via email, to cheys@inlander.com
Share your pet photo on Instagram, Facebook or Twitter, and use the hashtag #InlanderPets. You can also tag us, @TheInlander, to make sure we see it.

Please make sure to
also tell us the following
when you submit your photo, in a caption on social media or in your email: your pet's name, age, breed and/or species and its hometown. Also please tell us, briefly, why your pet should be in the pages of the
Inlander
!
To be fair, we ask that readers only send us ONE submission per household. If you're a multi-pet home, send us a photo of all your fur kids together! The contest is open to residents of the
Inlander's
larger coverage area of Eastern Washington and North Idaho.
We'll be contacting winners the morning of Friday, June 8 to share the good news, and to request any additional information about you and your pet.
For any questions about the contest, please feel free to reach out to the Pets Issue editor, Chey Scott, at cheys@inlander.com.