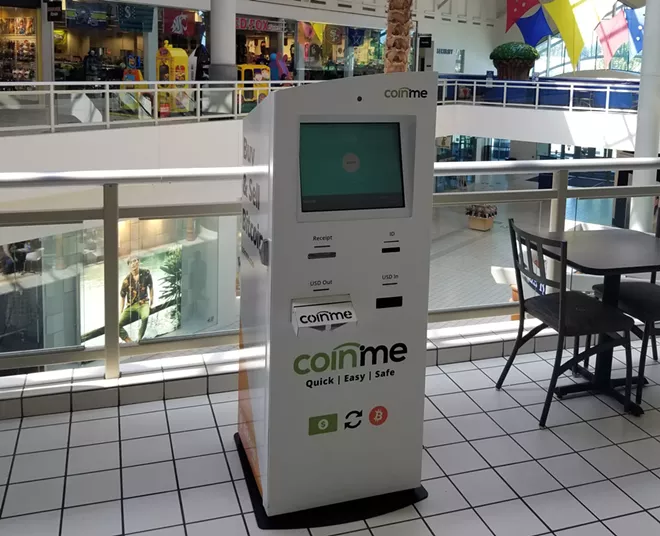 A Seattle-based company has put an ATM in the Spokane Valley Mall that allows people to create an account, deposit cash and save it as Bitcoin in a virtual wallet.
"One of the things that we really want to do is provide a low-barrier entry for people who are looking to get into crypto," says Dom Garrett, director of marketing for Coinme, which started in Seattle in 2014.
The company hopes to make it as easy as possible to buy and trade cryptocurrency. While it's just set up for deposits now, eventually the plan is to also allow people to withdraw cash from the machine, Garrett says. Some of Coinme's 50 other ATMs around the country already have that feature, and with the new ATM in Spokane Valley, the company now has 12 across Washington.
Bitcoin is a virtual currency that was created to exchange value with others without needing a bank or central authority to verify transactions, and it's the most popular of hundreds of cryptocurrencies that now exist.
(If you missed it, you can learn all about how
"mining" for the digital currency is impacting Central Washington utilities
in our cover story from April.)
Part of the reason Coinme was founded is that getting into buying and trading cryptocurrency can seem daunting to many people, as there's a lot of jargon and confusing explanations online, but it doesn't have to be that complicated, Garrett says.
"Cryptocurrency is something that we view as the future of the financial system," Garrett says. "We are really excited to be able to provide that on ramp for people to be able to take part in the system, especially in areas like Spokane."
While Seattle and San Francisco tend to be the places where early technologies are available first, Coinme hopes to bring this technology to rural and smaller urban areas in hopes of helping speed its adoption, Garrett says.
HOW IT WORKS
To use the ATM, users need a government-issued ID (say, a driver's license) to start.
The ATM will walk you through the process, including agreeing to terms of use and taking a picture with the built in camera while holding up your license to prove it's you depositing the money — this is an anti-money laundering requirement on the company, Garrett says.
From there, you've got an account.
"What we do is we actually create a hosted wallet for you," Garrett says. "And then just like a vending machine, there's a little slot with a light and you feed cash into the machine."
As you do so, you'll see what fraction of a Bitcoin you're actually buying, and deposit as little as a dollar and up to $2,500 per day, Garrett says.
"It's pretty simple," he says. "At the machine it takes about 60 seconds and you're all set up."
Afterwards, you can go to coinme.com and log into your digital wallet for the first time, when you'll be prompted to set your password and finish setting up your account. From there, you can trade your Bitcoin on exchanges if you want to and find other information on markets.
The fine print:
There's a 10 percent transaction fee (for both deposits and withdrawals), which is in line with other Bitcoin ATMs, Garrett says. The hope is to be able to lower those fees in the future.
As for security, Coinme has an entire team dedicated to keeping user information and digital wallets secure.
With cryptocurrency, there is no federal insurance like there is with a bank, where the FDIC guarantees deposits up to a certain amount.
"We have had an incredibly great track record in our company's history as far as security," Garrett says. "While there may not be specific assurance there, it's on the top of our minds. Our team is constantly looking for ways to make sure we are more secure."
He also points out that the company has an A+ rating from the Better Business Bureau.
"That is something we do take seriously," he says. "Trust is everything, especially when it comes to people's money."