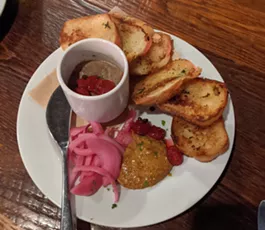 For night three of
Inlander Restaurant Week 2020
— heads up, there are now just six days left! — my faithful dining companion and I headed out to Coeur d'Alene. Each year I pick at least one "new-to-us" spot to try, and this time it was
the Bluebird
in Midtown Coeur d'Alene, offering three courses for $33.
Reservations are highly recommended at the small bistro opened in 2016 by Autumn and chef Viljo Basso, who also operate Syringa Sushi and Monarch Ramen along Coeur d'Alene's Fourth Street corridor. (The Bluebird was voted Best New Restaurant in North Idaho in the Inlander's 2017 Best Of Readers Poll.)
The Northwest-inspired menu focuses on seasonal and internationally inspired dishes with a refined yet accessible approach. Chef Basso
once told the Inlander
that
Bluebird's
menu is "the culmination of things that Autumn and I have eaten over the years."
For course one, we chose the
seared diver sea scallops
; two are served with a fresh green salad and were perfectly seared, with a soft and buttery texture. Our other pick was the
chicken liver pate
, a smooth and savory spread served with toasty baguette slices, pickled red onions, sour cherries and mustard. Both starter portions were generous and filling, and aptly plated for sharing.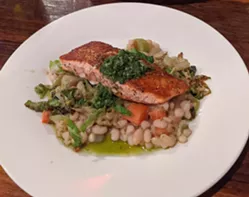 For course two, I went for the
salmon
, which turned out to be one of the best salmon dishes I've eaten in recent memory. Served atop a bed of white beans, carrots, onion, celery and wilted romaine, the roasted salmon fillet was topped with green onions and mint pesto. Every bite was a savory, well-seasoned and delightful combination of flavors and textures. My guest chose the
duck confit
, a whole duck leg served with roasted Brussels sprouts, pork belly and potato hash. The duck and its complements were rich in decadent, fatty flavors. Both of us cleared our plates.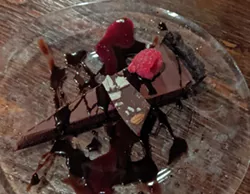 For dessert, I chose the
vegan chocolate torte
, a modestly portioned wedge of rich, chocolatey goodness that was the perfect size after the previous two courses. My guest chose the
bread pudding
, topped with sake-soaked raisins, hazelnuts, a scoop of vanilla ice cream and salted caramel sauce. I helped him finish the hearty portion of soft, chewy and pleasantly spiced sweetness.
For its Drink Local pairings, Bluebird is offering a selection of $7 wine by the glass from Pend d'Oreille Winery, along with rotating beers from Post Falls Brewing Co. and a citrus cucumber cider from Trailbreaker Cider, the latter of which my guest ordered and enjoyed.
Our lovely experience at the Bluebird — service was efficient and friendly while the house was packed — exemplified the joyful discovery element of Restaurant Week, and we left impressed and excited to recommend it to others.

The Bluebird's Restaurant Week menu is available from 4 pm to close through Saturday.