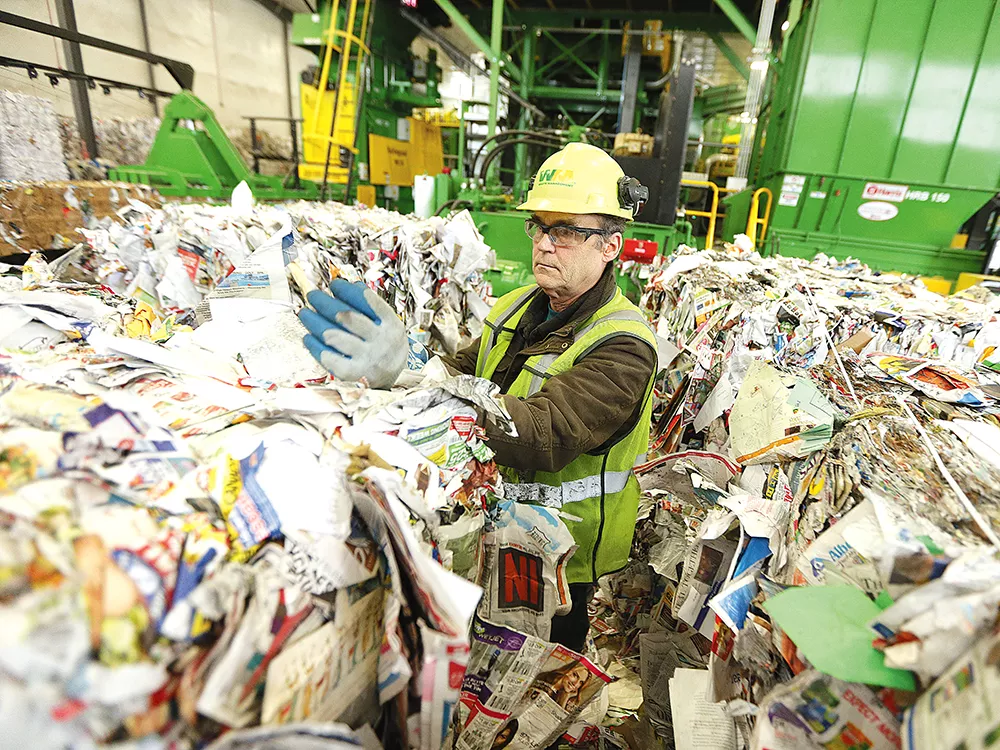 ANOTHER MAN'S TREASURE
Spokane County has filed a lawsuit arguing it isn't getting the GARBAGE it deserves. The county says that garbage that should be rightfully going to the county's waste management system is being diverted to a competitor: Sunshine Disposal.
Last year, as the county moved to take over management of the Regional Solid Waste System, commissioners had to scramble to keep smaller cities from fleeing the system. The more garbage is handled within the county system, the cheaper rates would be for everyone in the system, thanks to economies of scale.
"How you make these things financially feasible is by volume," says Marlene Feist, spokeswoman for the city of Spokane's utility division. "If you've built your system around an expected flow of garbage, and somehow the flow is [much lower], your system doesn't work."
And the commissioners succeeded in convincing most of the partners to stay on board, except for Spokane Valley and Liberty Lake, which fled the system for Sunshine Disposal. In other regions, Sunshine Disposal is responsible for picking up the garbage and bringing it to the Waste-to-Energy plant or other county transfer stations.
But a lawsuit, filed in Superior Court on June 26, says that some of that waste owed to the county is going elsewhere.
"We cannot find any record of Sunshine delivering solid waste from your... areas in Newman Lake or north Spokane County," Spokane County Utilities Director Kevin Cooke wrote in a letter to Sunshine in April.
In a letter back, Sunshine President Marc Torre argued that the company "does not have to comply" with certain county provisions, because Sunshine's 1983 facility was grandfathered in before current regulations. Torre did not respond to a request for comment by press time. (DANIEL WALTERS)
SHOWING INITIATIVE
On Monday activists on opposing ends of the political spectrum brought stacks of signed INITIATIVE PETITIONS to the Spokane City Clerk. Envision Spokane, a group of activists who have twice placed an expansive Community Bill of Rights measure on the ballot, has sponsored a new initiative to guarantee a living wage, equal pay and require employers to provide a just cause for terminating workers, along with other provisions.
Kai Huschke, campaign coordinator, says that supporters of the initiative have spent the spring and summer outside of grocery stores and public events collecting 3,749 signatures, more than the 2,477 required to qualify it for the November ballot. Huschke expects the Spokane City Council to hold a hearing on the initiative on July 20 before sending the signatures to be validated.
Activists seeking to place a ballot initiative to reverse a city policy that bars municipal workers from inquiring about people's immigration status also delivered signatures to the City Clerk. Representatives from the campaign did not respond to a request for comment before press time, but the city council has already scheduled a hearing on the initiative for July 13. (JAKE THOMAS)
NO TERMINATION FOR DEPUTY
Spokane County Sheriff Ozzie Knezovich announced last week that Deputy Joe Bodman VIOLATED DEPARTMENT POLICIES when he sped through a Spokane Valley intersection doing 70 in a 35-mph zone without emergency lights or a siren last May. Yesterday, the sheriff's office issued Bodman a written reprimand, but he will not be fired, says Deputy Mark Gregory, a spokesman for the sheriff's office.
"Deputy Bodman was found not to be the causational factor," Gregory says. "There is no other pending action."
Bodman was on his way to assist another officer when, according to three investigations, his SUV narrowly missed 15-year-old Ryan Holyk, who was crossing the intersection at Sprague Avenue and Vista Road on his bike.
Holyk later died from a head injury. Witnesses have said they saw the police vehicle hit Holyk, and immediately after passing through the intersection, Bodman radioed: "I just hit a pedestrian." Prosecutors have cleared Bodman of criminal charges.
The sheriff's internal investigation found that Bodman should have used the emergency equipment and notified dispatch before proceeding to the other officer's aid. (MITCH RYALS)